Dec 22, 2006
Bush Administration
,
Civil Rights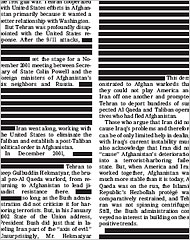 Today the New York Times is running a "redacted" version of Flynt Leverett's op-ed, discussed here. The column, headlined "Redacted Version of Original Op-Ed," was published with black bars over the parts redacted.
As egalia of the Tennessee Guerilla Women says, "Take a look at the graphic here, and tell me you are not living in a state similar to the USSR."
According to an accompanying editorial, parts of the original text were
… blacked out by the Central Intelligence Agency's Publication Review Board after the White House intervened in the normal prepublication review process and demanded substantial deletions. Agency officials told us that they had concluded on their own that the original draft included no classified material, but that they had to bow to the White House.

Indeed, the deleted portions of the original draft reveal no classified material. These passages go into aspects of American-Iranian relations during the Bush administration's first term that have been publicly discussed by Secretary of State Condoleezza Rice; former Secretary of State Colin Powell; former Deputy Secretary of State Richard Armitage; a former State Department policy planning director, Richard Haass; and a former special envoy to Afghanistan, James Dobbins.
Not only that, the editorial says, all information censored by the White House has been published before. With the editorial are the citations the NY Times provided the censors
… to demonstrate that all of the material the White House objected to is already in the public domain. Unfortunately, to make sense of much of our Op-Ed article, readers will have to read the citations for themselves.
Even weirder, the NY Times op-ed is a condensed version of an already published paper by Leverett that is freely available for download in PDF format from the Century Foundation (per SusanUnPC at No Quarter).
The only logical conclusion one can draw from this is that the op ed was censored because the White House disagreed with Leverett's opinion.
Looks like Bubble Boy is fixin' to expand the bubble.