Sep 13, 2016
Obama Administration
You will have heard about Hillary Clinton's infamous "deplorables" remark.
"To just be grossly generalistic, you can put half of Trump supporters into what I call the basket of deplorables," Clinton said. "Right? Racist, sexist, homophobic, xenophobic, Islamaphobic, you name it."
Of course, actual Trump supporters, who whine incessantly about "political correctness," threw a fit and complained that Clinton wasn't nice to them. Meanwhile, they're assaulting Trump protesters again. Those who are not Trump supporters think that "half" is way too low an estimate.
However, I think "pitiful" is more accurate than deplorable.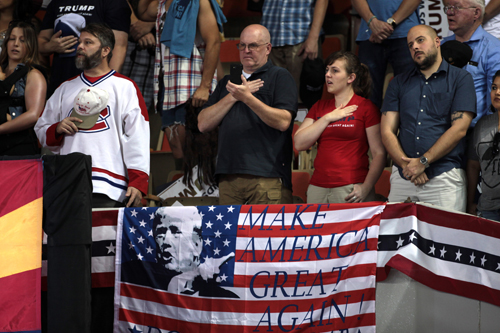 Here's a New York Times story that was published a couple of days before the "deplorable" remark. It's one of those "educated well-paid East Coast reporter spends time with hick southern rednecks, tries to be sympathetic" stories. For example:
Far from the metropolitan hubs inhabited by the main beneficiaries of globalization's churn, many people feel disenfranchised from both main political parties, angry at stagnant wages and growing inequality, and estranged from a prevailing liberal urban ethos. I heard a lot about how Obama has not been supportive enough of the police, of how white lives matter, too, and of how illegal — as in illegal immigrant — means illegal, just as robbing a bank is. For anyone used to New York chatter, or for that matter London or Paris chatter, Kentucky is a through-the-looking-glass experience. There are just as many certainties; they are simply the opposite ones, whether on immigration, police violence toward African-Americans, or guns. America is now tribal, with each tribe imbibing its own social-media-fed ranting.
I'm hearing him say "This species homo ignarus is like us, only opposite." But maybe I'm not being charitable.
Hazard is in Perry County, where unemployment is above 10 percent. On a bench opposite the county courthouse, on the Starbucks-free Main Street, I found Steve Smith and Paul Bush. Smith used to work underground at the Starfire mine. He earned as much as $1,500 a week, but was laid off a while ago. His unemployment has dried up and he has four children to feed. His family scrapes by on his wife's income as a nurse. He'd been in court over a traffic offense; now an idle afternoon stretched away.

"Trump's going to get us killed, probably!" he told me. "But I'll vote for him anyway over Hillary. If you vote for Hillary you vote for Obama, and he's made it impossible to ship coal. This place is about dried up. A job at Wendy's is the only thing left. We may have to move."
Trump has promised he will get the coal industry up and running again, but of course that's not going to happen. A very long time ago someone should have been explaining to coal mine workers and their dependents that coal is going away and not coming back. And politicians in the state should have been pro-active in bringing in industries or something to replace coal. But nobody did that, and nobody ever talks to these people except to exploit them.
Jenny Williams, an English teacher at Hazard Community and Technical College, told me it's past time to get over divisions between "Friends of Coal" — a popular movement and bumper sticker — and anti-coal environmentalists to forge a creative economy around agriculture, ecotourism, education and small-scale manufacture. Coal, she observed, was never going to last forever. "How could any idiot support Trump?" she said. "But when you've been on $70,000 a year in coal mines, and your life's pulled out from under you, who else can you be mad at but the government?"
This has been beyond obvious for a long time. But while the Trump supporters blame Obama, they should have been blaming the local and state officials and their U.S. Congress critters who did nothing to address the inevitable end of coal going back 20 and 30 years. Even now, according to the article, those same officials are asking for something to be done to save coal.
"We need Trump for a reasonable Supreme Court and an E.P.A no longer skewed against fossil fuels," Bissett argued. "A lot of jobs here still depend on coal and cheap electricity. That's why Clinton is toxic right now."
They still aren't facing reality.
Back to the guys in front of the courthouse:
He was awaiting his son, in court on a drug charge for the painkiller Percocet. A retired operator of heavy equipment for the Road Department, Bush said his son did nothing, "just a few odd jobs." He continued: "Obama's probably never known hardship. He and Hillary don't get it. At least Trump don't hold nothing back: If he don't like something, he tells you about it."

His son's girlfriend emerged from the courthouse. "They locked him up," she said.

"Why?"

"He failed one of the drug tests."

"Well, ain't nothin' we can do about it," Bush said.
 Like Trump ever suffered hardship, but let's go on … The small-town and rural South and Midwest are being eaten alive by drugs. Not only is it one way to make money; it's easier to set up a meth lab or whatever that won't get noticed if you've got lots of woods to hide in, as opposed to a city. And you've got a population of people who don't see a future for themselves, all too willing to self-medicate.
What's happened to eastern Kentucky is devastating, but far from unique. At France's diner, another popular Hazard hangout, Daniel Walker, who works from home for a medical software company, told me: "Look, I lived for a while in Mansfield, Ohio, and General Motors moved its stamping plant there to Mexico, with the loss of thousands of factory jobs. The decent middle-class life is gone."
This is the real complaint, and it goes beyond coal. Somehow, politicians saw that these big global trade deals would boost the economy overall, but they ignored the part about cutting middle-class  workers out of the deal. All those factories closed; people were just supposed to find other jobs. But there were no other jobs, or at least, not jobs that paid at the same rate.
I can remember when George W. Bush promised Americans that it was okay to ship manufacturing jobs to India, because that would just create more jobs here in America. It was absurd, but I suspect he believed it. I suspect all of the people he ever talked to about economics believed it. Outsourcing creates new foreign markets; new foreign markets meant that companies here made more money. Obviously there would be jobs.
But doing what, exactly? That's where the dots don't connect. American companies made more money but had no work for American workers to do.
There are communities like Hazard County all over America, where there was once a factory or a mine or some sort of industry that paid good wages. Fifty years ago the boys could graduate from high school one day and get a secure, decent-paying job the next day. And with the money they made they bought cars and houses and kept money flowing through that community. That way of life is pretty much gone in the U.S., and nobody prepared the working class for it or even gave serious thought about what would happen to those workers when the industrial jobs dried up.
"Nobody" includes politicians of both parties. As long as their investment portfolios were doing well, everything was hunky-dory.
In a way, I can't blame them for preferring the candidate promising change, narcissistic humbug though he may be, over the one who exemplifies the status quo. Yes, a lot of these workers are racist and xenophobic and badly educated, and they have no clue what's really going on in the world. But who's telling them anything about what's really going on? Politicians? News media? Um, nobody, that's who.