May 26, 2017
Trump Maladministration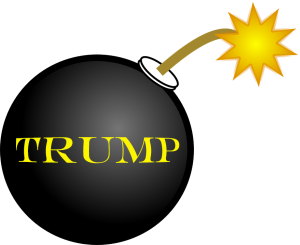 I swear, I can't keep up. If I did nothing but post on the latest scandalous thing out of Washington, I couldn't keep up.'
WaPo reporters Ellen Nakashima, Adam Entous and Greg Miller report that Jared Kushner tried to set up a secret communications backchannel between the Trump transition team and the Kremlin.
It appears that Kushner wanted to block any monitoring of Trump's activities by U.S. intelligence. Russian intelligence monitoring was, however, okay.
Jared Kushner and Russia's ambassador to Washington discussed the possibility of setting up a secret and secure communications channel between Trump's transition team and the Kremlin, using Russian diplomatic facilities in an apparent move to shield their pre-inauguration discussions from monitoring, according to U.S. officials briefed on intelligence reports.

Ambassador Sergey Kislyak reported to his superiors in Moscow that Kushner, son-in-law and confidant to then-President-elect Trump, made the proposal during a meeting on Dec. 1 or 2 at Trump Tower, according to intercepts of Russian communications that were reviewed by U.S. officials. Kislyak said Kushner suggested using Russian diplomatic facilities in the United States for the communications.

The meeting also was attended by Michael Flynn, Trump's first national security adviser.
Note that Reuters independently came up with the same story.
WaPo also quotes U.S. intelligence officials saying that Kushner's request "seems extremely naive or absolutely crazy." Dear little Jared is in way over his head, my dears, as is his father in law.
Intercepts of Russian communications show Ambassador Sergey Kislyak said Kushner suggested setting up the secure backchannel and even proposed using communications equipment in stateside Russian diplomatic facilities, according to the report, which cited anonymous U.S. officials briefed on the intercepts.

Kislyak was taken aback by Kushner's proposal to use Russian equipment, according to the Washington Post, and reported it to his superiors in Moscow in intercepted communications that U.S. officials later reviewed.
I have disliked Jared Kushner ever since he bought the once-great New York Observer and turned it into a glorified shopper/gossip rag for the Upper East Side. Everything about him screams privilege. Like his father in law, he's been sheltered from ever learning his own limits.
Amber Phillips writes for WaPo:
Secret back channels. Meeting with the Russians. Forgetting to disclose your meetings with the Russians. (Kushner is just one of several current and former Trump campaign officials who held meetings with the Russians, then forgot to share those meetings.)

If the Trump campaign did not work with Russia to try to influence the election, they certainly had a lot of interactions with the Russians that they didn't want the U.S. government and/or the public to know about.

Which raises the question: What reason would Kushner have to keep talks secret from the U.S. government, when his father-in-law was a month away from being the head of the U.S. government?
Well, yeah, that sums it up pretty well. Matt Ford and Adam Serwer, in The Atlantic, add.
The potential security implications of Kushner's reported proposal, experts said, are significant.

"Both Flynn and Kushner are extremely naive if they think a covert communications channel can be set up at Russian diplomatic facilities in the U.S. without the FBI finding out," said David Gomez, a former FBI agent and a fellow at George Washington University's Center for Cyber and Homeland Security.

"It is inconceivable that a White House official who had done this, not at the president's direction, would continue to work there," said Hennessey. "What happens to Kushner now will be incredibly revealing about the extent to which political accountability and the rule of law continue to apply in the White House."
In other words, if Kushner isn't suspended from his position over the weekend … well, I'd be really surprised if he is. The concepts of "integrity" or "honor" or even "covering your ass" seem unknown to Trump and his tribe.