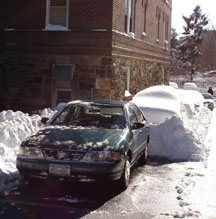 The Mahamobile (teal '97 Nissan Sentra) is among the first cars dug out of the snow in the co-op parking lot! Which is a good thing, because the sun is out now and I anticipate a nice melt-freeze cycle.
The NY Times is saying a "record" amount of snow fell in Central Park — 26.9 inches. The previous record, 26.4 inches, dates from 1947.
However, I'm sure this isn't the biggest snowfall I've seen since I've lived in the greater New York City metro area. I think the snow has just been missing Central Park.