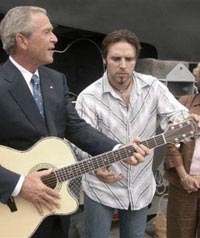 Last night I linked to the newly discovered pre-Katrina video that shows President Bush beng told Katrina could be bad. The Associated Press reported:
In dramatic and sometimes agonizing terms, federal disaster officials warned President Bush and his homeland security chief before Hurricane Katrina struck that the storm could breach levees, put lives at risk in New Orleans' Superdome and overwhelm rescuers, according to confidential video footage.

Bush didn't ask a single question during the final briefing before Katrina struck on Aug. 29, but he assured soon-to-be-battered state officials: "We are fully prepared."
Referring multiple times to Katrina as "the big one," Brown also told Bush that the Louisiana Superdome, sitting 12 feet below sea level, might also fall apart and create, in the ex-FEMA chief's words, "a catastrophe within a catastrophe."

Bush asked no questions during the briefing – can you imagine Bill Clinton or Jimmy Carter sitting silently with something of this scope about to happen in our country? – and showed no evidence of grasping the magnitude of the hit New Orleans was about to take.

Then, four days after Katrina struck, Bush appeared on television and acted as if the hurricane's potential for severe damage was a surprise to everyone. "I don't think anybody anticipated the breach of the levees," Bush said in an interview with ABC News.
Via Steve Soto at the Left Coaster:
Listen, here's the problem that happened in Katrina. There was no situational awareness, and that means that we weren't getting good, solid information from people who were on the ground, and we need to do a better job.

–Bush, Tuesday, to ABC's Elizabeth Vargas
Translation: Nobody told me nothin', so it ain't my fault. And that was a lie.
As the tragedy of Katrina unfolded we heard a number of excuses for the President's odd behavior, including the argument that disaster response isn't really the federal government's job. Whatever bad happened was entirely the fault of state and local governments. But here we see Bush telling those state and local government officials that the feds were "fully prepared" to respond and would send every resource at their disposal.
Hoping to counteract the damage of the story, the White House leaked Newsweek transcripts from daily noon FEMA conference calls during and after Katrina to show how engaged and concerned Dubya was. Trouble is, these are transcripts that they had initially refused to provide to congressional investigators.
Once again, we see that the Bushies are helplessly inept at responding to a crisis, but nobody can beat 'em at political damage control. Does this, perhaps, tell us something about Bushie priorities?
I'll have more to say later today about the ongoing struggle between Bush and Reality. But let's think a minute about the struggle between Bush and Competence. I've said before that I've had the misfortune of working for a lot of incompetent bosses, but even the dumbest among those understood that if some Big Bleeping Deal was going in they had to at least look as if they were busily engaged with it. Yet while corpses rotted on the streets of New Orleans, Bush was merrily traipsing around the country cutting cakes and playing rock star.
Another excuse is that his staff wasn't keeping him informed. Even if that's true, this says to me that the President feels absolutely no sense of responsibility for keeping himself informed. Before the hurricane he sat in a room with a bunch of experts who told him there could be devastating damage and loss of life. Yet he was so disinterested in the aftermath that it took him days to catch up to what everyone else in the country was watching on television.
According to Mark Hosenball of Newsweek, the transcripts the White House had initially refused to provide congressional investigators are supposed to show that the President really was engaged in the Katrina disaster but had been given conflicting information about the levee breach.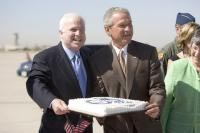 So instead of demanding better information, Bush traipses around the country cutting cakes and playing rock star. Yeah, I'm real reassured.
If the confusion had lasted only a few hours one might blame bureaucratic incompetence, which I'll come back to in a second. But the hurricane struck on Monday and Bush didn't grasp how bad the situation was until Friday (if then). And that was only because his staff put together a DVD of news reports and urged him to watch it.
Regarding the bureaucratic incompetence — the White House continues to have these little communications glitches, as the recent gun accident episode revealed (once again). Is Bush rattling the cages in the White House and demanding better performance from his staff? Has he ever? If so, it ain't workin'.
Without knowing the man personally it is hard to know why the President is so disturbingly warped. Theories I've heard include brain damage from substance abuse and personality disorder resulting from emotionally unavailable parents. We might also reflect on the fact that in his whole life Bush has rarely if ever been in a position to have to work for someone else. Maybe on paper, on some Harken Oil organizational chart, Bush "reported" to somebody. But in reality whatever positions he was given came to him because of his family connections. He was never expected to perform any function except grace the boardroom with his presence. The work of the company just kind of happened without his participation. Maybe he doesn't know that normally executives are supposed to do stuff.
Whatever. Bottom line, the boy ain't right.
Maybe the Constitution needs a "twit" clause — a provision for removing a President who is pathologically out to lunch.