Ever wonder how it is that conservatives can go to Iraq and not see any violence? Well, now we know — they've been in the wrong country.
Will Bunch posted a photograph that Republican congressional candidate Howard Kaloogian (running for Duke Cunningham's seat) claimed he had taken in Baghdad.
Turns out this photo is actually of a suburb of Istanbul.
Does this explain how, for example, Ralph Peters could travel all over Baghdad without so much as seeing smudged shoes or a hair out of place? Have the Bushies set up a Potemkin Baghdad village somewhere in Turkey to show off to visitors? I mean, we've heard for years the moon landings were faked. If you can fake the moon, you can fake Baghdad.
Of course, this might be just an honest mistake. So I created this handy-dandy guide to Middle East geography for Republicans: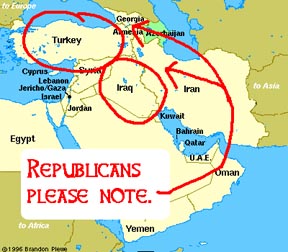 I'm just funnin' with ya, righties. But those of you who think you've been to Iraq might want to check what's stamped on your passport.

Update: Howard Kaloogian says he's sorry about the photo. He's sorry he didn't "just" get back from Baghdad; he got back last year. And he didn't "take" the "photo." He doesn't know who took it. He didn't write the caption; some staffer wrote the caption. Maybe some staffer's mother. Maybe elves. But he thinks people are being picky.