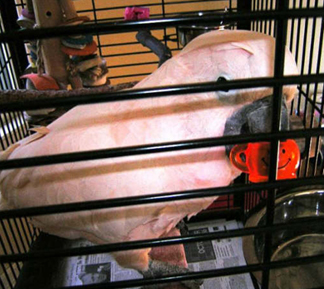 Justme sends a photo of the newest Mahablog reader, Paulie. Justme writes,
He drinks from the cup you see him holding. He leaves the cup in his water dish, picks it up with his beak when he wants a drink and tilts his head back and chugs…then he says"bottoms up!".. AND he has only been here a few days…who knows what he will do once he comes out of his shell and starts to feel at home…Yikes, now I am afraid!
I'm glad it's water and not Kool-Aid. Anyway, Justme hopes Paulie will learn to say BUSH SUCKS! like the famous Sammy.