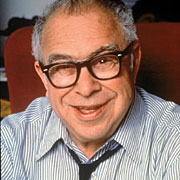 I remember being an Art Buchwald fan while I was still in elementary school, which was about two centuries ago. We were both a lot younger then.
Art Buchwald died yesterday at the age of 81. He kept working right to the end; there's an archive of recent columns here. If anyone can find some of his older work online, let me know.
"Whether it's the best of times or the worst of times, it's the only time we've got" — Art Buchwald, 1925-2007
Update: More from the Library of Congress.