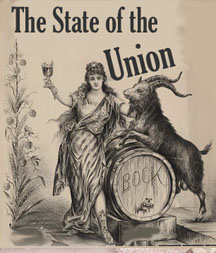 Live blogging will begin at 9 pm. If you can't stand the suspense, you can get a sneak preview of part of the speech at Raw Story. The excerpts don't include much about health care, which may mean nothing, or it may mean there will be less about health care in the speech than originally leaked. Bush has a history of faking people out with pre-SOTU leaks that don't, in fact, make it into the SOTU.
"Bipartisanship" promises to be the overriding theme of the speech. "Bipartisanship" means, of course, that the Dems should do what Bush tells them.

Update: Here's the full text.
Update update: Here's the part of the speech about health care:
Tonight, I propose two new initiatives to help more Americans afford their own insurance. First, I propose a standard tax deduction for health insurance that will be like the standard tax deduction for dependents. Families with health insurance will pay no income or payroll taxes on $15,000 of their income. Single Americans with health insurance will pay no income or payroll taxes on $7,500 of their income. With this reform, more than 100 million men, women, and children who are now covered by employer-provided insurance will benefit from lower tax bills.

At the same time, this reform will level the playing field for those who do not get health insurance through their job. For Americans who now purchase health insurance on their own, my proposal would mean a substantial tax savings — $4,500 for a family of four making $60,000 a year. And for the millions of other Americans who have no health insurance at all, this deduction would help put a basic private health insurance plan within their reach. Changing the tax code is a vital and necessary step to making health care affordable for more Americans.
I don't see how this is going to help families living on less than $60,000 a year. Even $4,500 isn't going to cover much of the insurance cost for a family of four.
My second proposal is to help the States that are coming up with innovative ways to cover the uninsured. States that make basic private health insurance available to all their citizens should receive Federal funds to help them provide this coverage to the poor and the sick. I have asked the Secretary of Health and Human Services to work with Congress to take existing Federal funds and use them to create "Affordable Choices" grants. These grants would give our Nation's Governors more money and more flexibility to get private health insurance to those most in need.
Nothing about taking money away from Medicare, but who knows how they propose to pay for this without raising taxes.
There are many other ways that Congress can help. We need to expand Health Savings Accounts … help small businesses through Association Health Plans … reduce costs and medical errors with better information technology … encourage price transparency … and protect good doctors from junk lawsuits by passing medical liability reform. And in all we do, we must remember that the best health care decisions are made not by government and insurance companies, but by patients and their doctors.
Translation: Government will see to it that health care decisions will be made by insurance companies, as they are now.