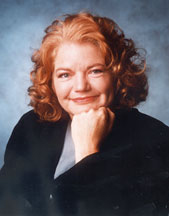 Molly Ivins died today. From The Fort Worth Star-Telegram :
Molly Ivins, whose biting columns mixed liberal populism with an irreverent Texas wit, died at 5:30 p.m. Wednesday at her home in Austin after an up-and-down battle with breast cancer she had waged for seven years. She was 62.

Ms. Ivins, the Star-Telegram's political columnist for nine years ending in 2001, had written for the New York Times, the Dallas Times-Herald and Time magazine and had long been a sought-after pundit on the television talk-show circuit to provide a Texas slant on issues ranging from President Bush's pedigree to the culture wars rooted in the 1960s.
Molly Ivins has been a bright light in very dark times. Back when Bush was riding high in the polls and news media was dancing to his tune, Molly Ivins's columns were proof that there was at least one sane citizen left in America.
She made a brief return to writing in mid-January, urging readers to resist President Bush's plan to increase the number of U.S. troops deployed to Iraq. She likened her call to an old-fashioned "newspaper crusade."

"We are the people who run this country," Ms Ivins said in the column published in the Jan. 14 edition of the Star-Telegram. "We are the deciders. And every single day, every single one of us needs to step outside and take some action to help stop this war.

"Raise hell," she continued. "Think of something to make the ridiculous look ridiculous. Make our troops know we're for them and are trying to get them out of there. Hit the streets to protest Bush's proposed surge."

She ended the piece by endorsing the peace march in Washington scheduled for Saturday. 01-27 "We need people in the streets, banging pots and pans and demanding, "Stop it, now!' " she wrote.
Thank you, Molly. We'll miss you.