Righties can't let go of the stories about antiwar protesters spitting on soldiers during the Vietnam era. There's a new round of blog posts about it, mostly linking back to this one. Although it would be foolish to claim it never happened, I do have a few clarifications to make.
First, regarding Jerry Lembcke — the sociologist did not, I believe, claim that no antiwar protester ever spit on a soldier. His research focused on a particular spitting narrative, that of antiwar protesters lining up at airports to spit on veterans who had just returned from Vietnam. He explained this is a Boston Globe op ed in 2005.
One can, of course, chop parts of Lembcke's many articles and his book out of context to make it seem he was claiming there was no spitting whatsoever, and I'm sure righties do that all the time, but everything of his I've ever read was specifically focused on the spitting-at-the-airport stories. This was an issue because, for some reason, in the 1980s and 1990s such stories were so common you'd think every soldier walking out of an airport must've been wringing wet with spittle, yet Lembcke was unable to find contemporary news stories about this phenomenon. He concluded that the airport spitting stories amounted to an urban legend.
On the Right, however, Lembcke's claims were contorted into a claim that no soldier was ever spit on by anybody during the Vietnam era, and I see they're still arguing with Lembcke based on this assumption.
The examples of soldier-spitting dug out of old newspapers by the rightie bloggers do not take place in airports. (I see one airport story, but it's not clear that it was taken from a newspaper.) Hence, they do not disprove Lembcke's contention that the airport stories in particular are apocryphal.
Such claims made many years after the fact are suspect for many reasons. For one, urban legends have a way of planting themselves into peoples' heads as false memories. Two, although it's impossible to prove it never happened — can't prove a negative, you know — if it had happened half as much as it was claimed to have happened, you'd think somebody would have noticed it at the time. But the airport-spitting stories didn't take off until several years after the war.
Another point the righties love to drag up and argue about is that, somewhere, Lembcke wrote that soldiers didn't land at the San Francisco airport, at which much of the alleged spitting took place. And, of course, soldiers did land at San Francisco sometimes, so that is not true. Without seeing exactly what Lembcke wrote I can't defend it properly, but his point may have been that soldiers didn't typically return from Vietnam to the U.S. together in a troop ship. They flew back to the states as individuals on commercial flights, to whatever airport was closest to home. Thus, it made no sense for protesters to hang around in airports just waiting to find soldiers to spit on, since on many days they would have waited around all day and never seen one, or maybe just one or two, and then there was no way to know whether they had just returned from 'Nam or not.
And, indeed, I never saw any protesters at airports, even the San Francisco airport, in those years. On the other hand the Hare Krishna devotees were thick as fleas at San Francisco and other airports back then. They were generally benign as long as you bought their flowers. But maybe some folks mistook them for antiwar protesters.
The next point I'd like to make regards the Right's false dichotomy that in those days the Left was antiwar and anti-military and hated the troops, and the Right was prowar and pro-military and supported the troops. It wasn't that simple. For one thing, as the war turned sour many hawks blamed the soldiers for being slackers and drug addicts. It was not at all difficult to find people who were pro-war and who badmouthed the troops for losing it. For all we know some of the people who spat at soldiers were pro-war.
Further, as the war continued the enlistees were increasingly against the war themselves. This page (hat tip to Steve Gilliard) lists various protests and riots by soldiers on military bases during the Vietnam War era. It so happens I spent the summer of 1971 living on post at Fort Ord, California, with my brother and his wife, and those enlistees I met had, um, attitude problems. They hated the war, and the military, and didn't want to be there. I remember a couple of fellows claiming they took part in antiwar protests — in civilian clothes — on their days off, but they may have been bragging to impress me.
In any event, by 1970-71 or so it was the returning veterans themselves keeping the antiwar movement alive, and not just as part of the Winter Soldier campaign. By then the Pentagon had switched to a lottery system to call up enlistees, and fewer and fewer young men were being called, and after 1971 or so (as I remember) there was less antiwar activism on most college campuses than there had been earlier. As soon as the guys figured out they weren't going to be drafted, they tuned out the war and went back to planning keggers. It was mostly the returning veterans who cared passionately that the war end asap. I rather doubt they spit on other veterans.
And that's all I have to say about that.
Well, OK, here's an update — Here's a photo (source) of a Vietnam protester not spitting at a soldier.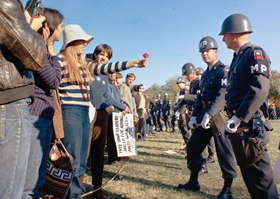 As the article linked to says, sometimes encounters between demonstrators and protesters got hostile. And sometimes the protesters gave the soldiers flowers.