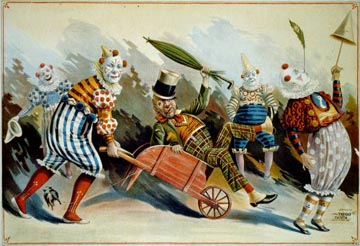 Step right up, boys and girls, and see the clown show Conservative Political Action Conference (CPAC), which is going on right now in Washington, DC.
And what a show it is! For example, yesterday Richard Viguerie called on conservatives to stop giving money to GOP fundraising committees. Why? "because they spend our money in primaries to defeat conservatives." He also wants conservatives to withhold support from "all of the top tier 2008 Presidential wannabees" and stop supporting Republican elected officials, except for the rare few who are real conservatives.
The objective is to return America to real conservative governance. "It may take 6-10 years for conservatives to be able to govern America," he said. "We have to build a whole new conservative movement, independent of the two major parties."
But, of course, conservatives have to win over others if their dream is to be fulfilled.
And all the Americans in the "sensible center" who know deep-down that conservatives really are "right:" We're right on illegal immigration, right on taxes, right on health care, right on the economy, right on terrorism – and right for America.
Are we having fun yet?
See, the problem is that the Far Right is feeling left out. Julie Mason reports for the Houston Chronicle:
Leading American conservatives are fed up with President Bush and the Republican establishment, and they don't give a toss for the party's 2008 presidential front-runners, either.

At this year's Conservative Political Action Conference, the annual, three-day gathering of the far right and its leaders, the mood is feisty and disgusted — but not just at Hillary Clinton, this time.ight is feeling left out. …

… For a party that grew and achieved in large part by force of its unity, this rift between conservatives and the Republican power structure is profound. It could be either the ruin of the GOP or the re-making of it.

"We don't want to be the Republican Party, we want to be the conservative movement," said Phyllis Schlafly, legendary doyenne of the right. "We cannot afford to be 'Bush Republicans.' "

With her trademark shiny gold eagle pin perched on her shoulder, Schlafly criticized Bush over the Harriet Miers Supreme Court nomination — the right questioned her conservative qualifications — and his handling of immigration issues.

"We cannot afford to let Mexico turn us into a two-language nation," she said, as her audience roared approval and banged on tables in support.
Apparently John McCain wrote the CPAC crowd off as well; he chose not to attend.
Rosa Brooks of the Los Angeles Times checks out the sideshow:
Remember Swift Boat Veterans for Truth, the right-wing goon squad whose defamatory insinuations helped sink John Kerry's presidential campaign? They're back! This afternoon, key Swift boaters George "Bud" Day, Mary Jane McManus and Carlton Sherwood are holding a little reunion, in the guise of a panel discussion at the American Conservative Union's annual Conservative Political Action Conference. The panel topic? "The Left's Repeated Campaign Against the American Soldier."
Wait; it gets better.
Of course, the Swifties' presence on the agenda is hardly the only evidence that the lunatics have taken over the asylum at CPAC. Other giveaways include some unintentionally humorous agenda items: Oliver North — he of the Iran-Contra scandal — will be presenting the "Defender of the Constitution Award," for instance, while right-wing attack blogger Michelle Malkin, whose work has been repeatedly criticized for its cavalier attitude toward facts, gets the "Accuracy in Media Award."
You can't make this shit up.
Update: The circus continues — Bill Scher of Liberal Oasis is blogging CPAC and brings us this little gem: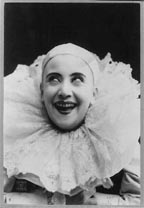 At an afternoon panel on taxes, Scott Hodge of the Tax Foundation, lamented that despite six years of tax cuts mainly for the wealthiest, we haven't completely destroyed our progressive tax system.

After a slide presentation described how the wealthy contribute more in taxes and the poor receive more in benefits, Hodge declared, "the rich are getting screwed."

Now there's the message that will bring back conservatism.