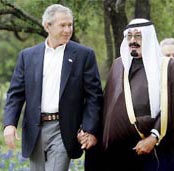 Jim Hoagland writes in today's Washington Post that the Bushie-Saudi relationship is on the rocks.
President Bush enjoys hosting formal state dinners about as much as having a root canal. Or proposing tax increases. So his decision to schedule a mid-April White House gala for Saudi Arabia's King Abdullah signified the president's high regard for an Arab monarch who is also a Bush family friend.

Now the White House ponders what Abdullah's sudden and sparsely explained cancellation of the dinner signifies. Nothing good — especially for Condoleezza Rice's most important Middle East initiatives — is the clearest available answer.

Abdullah's bowing out of the April 17 event is, in fact, one more warning sign that the Bush administration's downward spiral at home is undermining its ability to achieve its policy objectives abroad. Friends as well as foes see the need, or the chance, to distance themselves from the politically besieged Bush.
So sad. What's worse, King Abdullah has been going out with other heads of state.
Abdullah gave a warm welcome to Iranian President Mahmoud Ahmadinejad in Riyadh in early March, not long after the Saudis pressured Palestinian President Mahmoud Abbas into accepting a political accord that entrenches Hamas in an unwieldy coalition government with Abbas's Fatah movement.
The Saudis "know how to read election returns," Hoagland says.
Next week: In a jealous rage, George W. Bush mails Bob Woodward a copy of the 28 pages redacted from the congressional report on 9/11. (The section of the report that dealt with Saudi Arabia's role in the September 11 attacks.)
See also Sun Tzu at The Agonist.