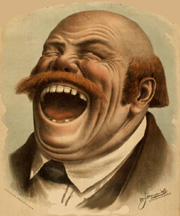 Is Rush Limbaugh about to have a Don Imus moment? Apparently Rush presented a little parody ditty called "Barack the Magic Negro"" on his radio show last month, and some of his own staff are fomenting mutiny over it.
The song ostensibly was inspired by this David Ehrenstein op ed in the Los Angeles Times, wherein the fabulous David E (who is African American) writes about how whites perceive Barack Obama. The Rush parody, unfortunately, has an entirely different point to it.
According to this site, in its most recent video incarnation the song (titled "U Da Real Negro Al, Screw Obama") is performed by Paul Shanklin, a conservative political satirist, who tries to imitate the Rev. Mr. Sharpton's voice. The video includes a slideshow of images of Sharpton and Barack pointing out the differences in their "blackness." The song alleges that Barack Obama is not a "real" black man, which was not David Ehrenstein's point at all.
The term "magic negro" (or "magical negro," and other variations), refers to a stock character of (white) fiction — a benevolent African American who drops into the plot Deus ex machina-style to counsel and redeem the struggling white main character. Rita Kempley explained the "magic negro" in 2003:
Morgan Freeman plays God in "Bruce Almighty;" Laurence Fishburne a demigod in "The Matrix Reloaded," and Queen Latifah a ghetto goddess in "Bringing Down the House. "

What's the deal with the holy roles?

Every one of the actors has to help a white guy find his soul or there won't be a happy ending. Bruce (Jim Carrey) won't get the girl. Neo (Keanu Reeves) won't become the next Messiah. And klutzy guy Peter (Steve Martin) won't get his groove on.

In movie circles, this figure is known as a "magic Negro," a term that dates back to the late 1950s, around the time Sidney Poitier sacrifices himself to save Tony Curtis in "The Defiant Ones." Spike Lee, who satirizes the stereotype in 2000's "Bamboozled," goes even further and denounces the stereotype as the "super-duper magical Negro." …

… Historically, if a black person is thrust into a white universe, it is inevitable that the white people will become a better person," says Thomas Cripps, author of "Making Movies Black: The Hollywood Message Movie from World War II to the Civil Rights Era" and other books on African American cinema. "Sidney Poitier spent his whole career in this position. Sidney actually carried the cross for Jesus in 'The Greatest Story Ever Told.'"
See also "Stephen King's Super-Duper Magical Negroes" by Nnedi Okorafor-Mbachu, written October 2004:
The archetype of the Magical Negro is an issue of race. It is the subordination of a minority figure masked as the empowerment of one. The Magical Negro has great power and wisdom, yet he or she only uses it to help the white main character; he or she is not threatening because he or she only seeks to help, never hurt. The white main character's well-being comes before the Magical Negro's because the main character is of more value, more importance.
I think it's debatable whether presidential candidate Obama neatly falls into this stereotype. On the other hand, I do think there's truth in the observation that white Americans are more, shall we say, comfortable with some African Americans than others; Colin Powell also comes to mind. This underscores the point that "race" is as much a social construct as anything else, but this is a huge topic I don't have the energy to dive into right now. Some other time, maybe.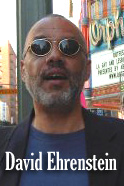 In his Los Angeles Times op ed, David Ehrenstein elaborates:
And what does the white man get out of the bargain? That's a question asked by John Guare in "Six Degrees of Separation," his brilliant retelling of the true saga of David Hampton — a young, personable gay con man who in the 1980s passed himself off as the son of none other than the real Sidney Poitier. Though he started small, using the ruse to get into Studio 54, Hampton discovered that countless gullible, well-heeled New Yorkers, vulnerable to the Magic Negro myth, were only too eager to believe in his baroque fantasy. (One of the few who wasn't fooled was Andy Warhol, who was astonished his underlings believed Hampton's whoppers. Clearly Warhol had no need for the accoutrement of interracial "goodwill.")

But the same can't be said of most white Americans, whose desire for a noble, healing Negro hasn't faded. That's where Obama comes in: as Poitier's "real" fake son.

The senator's famously stem-winding stump speeches have been drawing huge crowds to hear him talk of uniting rather than dividing. A praiseworthy goal. Consequently, even the mild criticisms thrown his way have been waved away, "magically." He used to smoke, but now he doesn't; he racked up a bunch of delinquent parking tickets, but he paid them all back with an apology. And hey, is looking good in a bathing suit a bad thing?

The only mud that momentarily stuck was criticism (white and black alike) concerning Obama's alleged "inauthenticity," as compared to such sterling examples of "genuine" blackness as Al Sharpton and Snoop Dogg. Speaking as an African American whose last name has led to his racial "credentials" being challenged — often several times a day — I know how pesky this sort of thing can be.

Obama's fame right now has little to do with his political record or what he's written in his two (count 'em) books, or even what he's actually said in those stem-winders. It's the way he's said it that counts the most. It's his manner, which, as presidential hopeful Sen. Joe Biden ham-fistedly reminded us, is "articulate." His tone is always genial, his voice warm and unthreatening, and he hasn't called his opponents names (despite being baited by the media).

Like a comic-book superhero, Obama is there to help, out of the sheer goodness of a heart we need not know or understand. For as with all Magic Negroes, the less real he seems, the more desirable he becomes. If he were real, white America couldn't project all its fantasies of curative black benevolence on him.
This is too nuanced for righties, I realize, but you see that David isn't writing about whether Barack Obama is inherently "black" enough, but rather about how he is perceived by whites. David says himself, "Speaking as an African American whose last name has led to his racial 'credentials' being challenged — often several times a day — I know how pesky this sort of thing can be." His line about "Obama's alleged 'inauthenticity,' as compared to such sterling examples of 'genuine' blackness as Al Sharpton and Snoop Dogg" was, as I read it, intended to ridicule people who make such comparisons. (Like Rush Limbaugh.)
When David's column was published, a number of righties wallowed in feigned outrage over it. This blogger and his commenters oozed disgust at the racism of "White liberal elitists." (I actually read through this muck; not one of them appears to have even a glimmer of what David's op ed actually said.) "And is LIBERAL David Ehrenstein who coined 'Magic Negro' as a description for Barack Obama still writing for the L.A. Times?" writes this dimbulb.
I've been googling around trying to find the "lyrics" to the Rush parody song so that you don't have to suffer through actually watching the putrid video. I had no luck, but Greg Sargent provides a description:
Let's start with a particularly lovely Rush/Shanklin special. It has a voice parodying an Al Sharpton who is so illiterate that he spells the word "respect" like this: "r-e-s-p-e-c-k." Here's a transcript of the relevant bit, where the Sharpton stand-in is standing outside Barack Obama headquarters asking Obama for attention by singing the following lyrics to the tune of Aretha Franklin's "Respect":

"R-E-S-P-E-C-K. Wha-choo mean it ain't spelt that way? R-E-S-P-E-K-T? I need a dictionary!"

There's more. As Media Matters reported the other day, Rush sang the ditty "Barack the Magic Negro" on his show on March 19, basing the lyrics on an L.A. Times Op-ed piece. But it gets better.

Now Rush is running a new, improved version of the "Magic Negro" song that's way more fleshed out — and way, way, more eye-opening, too. It features a parody of Sharpton singing about "da hood" and saying that Obama is "ar-ti-coo-late." Just give it a listen, it's hard to describe how low it is.

There are also routines where the Sharpton stand-in insults Obama by saying "yo mama's so fat" and so forth, as well as one where Sharpton demands that Obama explain himself to the "commooonity."
The only racist slam Rush and Shanklin left out were watermelon jokes.
More Jokes:
Go see Bob Geiger's Saturday cartoons. Read also about the senior Bush Administration official and former AIDS czar who resigned after his patronage of an "escort" service was uncovered.
Update: Garance has more:
There's a big difference between a conservative Southern white man — in this case, Rush's regular contributor Paul Shanklin, from Tennessee — doing these kinds of parodies of Al Sharpton and Barack Obama and, say, Kenan Thompson's affectionate parodies on SNL. In addition to "Barack the Magic Negro," Shanklin is also responsible for such tasteful Rush Limbaugh Show ditties as "Osama Obama."

Lest you think such things are limited to brief moments on the radio, Shanklin's "Magic Negro" song has already been turned into a YouTube clip which makes its highly offensive lyrics even more apparent. It's like a slap in the face, nothing but pure racial insult against Obama, who is charged with being inauthetically black and pictured in a Klan robe.