The British National Health Service has big problems that, as I understand it, stem less from the system itself than from massive underfunding of the system. Brits are trying to get by on the cheap, and it shows. To illustrate, here is Figure One from the University of Maine's "The U.S. Health Care System: The Best in the World, or Just the Most Expensive?" (PDF).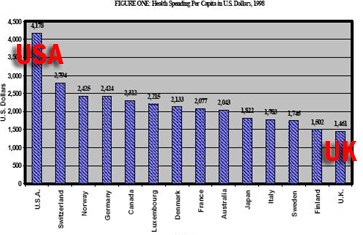 The figure shows spending for health care per capita in various nations, in 1998. I added "USA" and "UK." In 1998, the U.S. was spending $4,178 per capita and the UK was spending $1,461 per capita. I understand that in recent years the Brits have been increasing their spending on NHS, but it takes a long time to make up for years of underfunding.
I bring this up because one cannot fairly compare the U.S. and U.K. systems without considering the funding issue. This does not, of course, stop righties from comparing them.
Today some righties are hyperventilating about a story in the Daily Mail — "Father delivered baby after partner was turned away from NHS hospital – TWICE." A laboring woman was sent home because, she was told, there were no beds available in the maternity ward. Eventually her husband delivered the baby at home.
John Hawkins writes in "Will Hillarycare Mean Delivering Your Own Baby?":
The Left's push for socialized medicine in this country shows how dogmatic, impractical, and incapable of logical thinking that they have become. After hearing horror story after horror story like this one coming out of nations like Britain and Canada, why in the world do Democrats like Hillary Clinton want to emulate the health care systems that produced them?
Actually, no one I know of, including Senator Clinton — well, maybe Dennis Kucinich — is talking about emulating the Canadian single-payer system or the British NHS system, both of which have some snags. Senator Clinton's health care proposal is entirely different; similar to the "Massachusetts" plan, which I understand is also similar to the way Switzerland handles health care. I still say the French model is the one to follow, however.
But I do love the way righties can't let go of Canada and Britain whenever they go on a health care rampage.
Don Surber asks, "What kind of country has hospitals that turn down a pregnant woman like that?"
FYI, it's standard procedure in most, if not all, U.S. hospitals to send laboring women home if the birth is judged to be several hours away. Women are told they will be more comfortable at home, but the real reason is to prevent laboring women from taking up too many beds. And sometimes, the hospital is wrong. This public attorney documents a District of Columbia case:
A pregant woman came to the hospital with labor pains and intermittent contractions. She was sent home and returned about two hours later in active labor. After she returned, there were signs of fetal distress. Experts for the family testified that patient should never have been sent home because the fetal monitor strip was nonreactive and that an emergency cesarean section should have been done when she returned to the hospital.
If you just start asking mothers about their childbirth experiences, it won't take long before you hear the story about how she was sent home from the hospital, then went back later the same day to have the baby. It happens all the time. And sometimes they don't make it back in time, and the baby is born in the back of the station wagon at the intersection of First and Pine.
Knee-slapper of the week: Kim Priestap writes at Wizbang:
Thank God I live in America where access to health care is plentiful.
LOL! Oh, that's good. (Wipes eyes.) Those righties have some sense of humor.
Let's talk about the number of hospital beds per capita, which is a nice indicator of who's got "plentiful" access to health care. In fact, I found another chart.
Who's Number One? Switzerland, with 18.3 hospital beds per 1,000 people.
France is #9, with 8.4 beds per 1,000 people .
The UK is way down the charts at #23 (4.1 per 1,000 people), followed at #25 by Canada (3.9 per 1,000 people).
And I'm proud to say the U.S. is, um — wait a minute, where is the U.S? — oh, there we are. Number Twenty-Seven. The U.S. has 3.6 hospital beds per 1,000 people.
You'll be glad to know we beat Turkey and Mexico.
I'm so sorry that, as a leftie, I'm so dogmatic, impractical, and incapable of logical thinking on health care. I lack the clear-eyed vision of righties, which tells them "US Good, Everybody Else Bad." That does make it simple. I have this compulsion to look at actual facts and data and stuff, which always confuses issues.
BTW, if you want to know how the Brits view our health care system, see Suzanne Goldenberg, "Expensive and divisive: how America is losing patience with a failing system" from The Guardian, September 13, 2007. Be sure to look at the pictures, too.