Beautiful Downtown Wasilla, Alaska!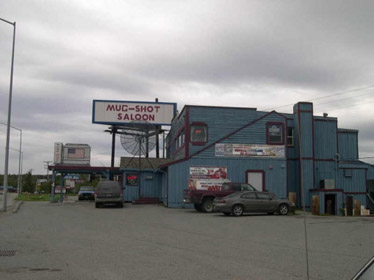 Kinda reminds me of back home, except the Ozarks has hills and more foliage.
I picked up the photograph of beautiful downtown Wasilla from this site, which has a must-read background article on the new nominee for VPOTUS, Sarah Palin. Read it, and then ask yourself: Is Palin another Dan Quayle? Or another Katherine Harris, albeit with less money? See also "Chief Fired by Palin Speaks Out."
Wasilla, Alaska, is where Palin gained nearly all of her executive experience. She was on the Wasilla city council from 1992 to 1996 — I envision a meeting room graced by cheap imitation wood wall paneling and a soft drink machine — and mayor from 1996 to I think 2006. I haven't found a precise end date for the mayor job. Then she was sworn in as governor of Alaska in January 2007. That was, like, last year.
Steve Benen reminds us of something Karl Rove said earlier this month on Face the Nation.
"I think he's [Obama] going to make an intensely political choice, not a governing choice," Rove said. "He's going to view this through the prism of a candidate, not through the prism of president; that is to say, he's going to pick somebody that he thinks will on the margin help him in a state like Indiana or Missouri or Virginia. He's not going to be thinking big and broad about the responsibilities of president."

Rove singled out Virginia governor Tim Kaine, also a Face The Nation guest, as an example of such a pick.

"With all due respect again to Governor Kaine, he's been a governor for three years, he's been able but undistinguished," Rove said. "I don't think people could really name a big, important thing that he's done. He was mayor of the 105th largest city in America."

Rove continued: "So if he were to pick Governor Kaine, it would be an intensely political choice where he said, `You know what? I'm really not, first and foremost, concerned with, is this person capable of being president of the United States."
See above, photograph of beautiful downtown Wasilla, Alaska.
It's possible Palin could help the McCain ticket a lot. She is already firing up the "movement conservative," anti-government Republicans. Her inexperience will not be an issue for them, since they don't give a bleep about anyone actually governing. She also will help McCain with social conservatives and cement support with white, conservative evangelicals. I expect McCain to get a significant bounce with these groups.
What about women? I predict a short-term bounce that will wither away once most women catch on how far Right and how inexperienced Palin is. And if anyone thinks McCain's choice was not a bare-assed attempt to lure Hillary Clinton supporters, Gail Collins notes,
… the only nonfamily members other than McCain that Palin really mentioned in her introductory speech were Democrats Geraldine Ferraro and Hillary Rodham Clinton. Whatever happened to Ronald Reagan? Isn't there a rule that you have to mention Ronald Reagan?

"It was rightly noted in Denver that Hillary made 18 million cracks in the highest, hardest glass ceiling in America," Palin said. "It turns out the women of America aren't finished yet, and we can shatter that glass ceiling once and for all."
Not that anyone pays much attention to them any more, but feminist organizations like NOW and NARAL are already slamming Palin.
However, this is a moment that calls for quiet reflection on how far women have come since second-wave feminism burst forth in the 1960s. Forty years ago, slaves to the Patriarchy like Palin simply denounced feminism and women's equality, saying they were happy being second-class citizens. Now, they pay lip service to feminism and take the reins of power to help the Patriarchy keep women subservient. Unfortunately, I fear there are many women — too young? too stupid? — who are selling out women by supporting an unqualified, anti-reproductive rights whackjob, who if she actually became President would set back women's rights at least 50 years.
Yes, I'm a bit irritated.
On the other hand, long-term I think the Palin choice could backfire among "swing" voters, especially when they learn about her extremist right-wing views on most issues and understand how utterly inexperienced she really is. McCain's one advantage with the swing voters was his alleged superior experience and judgment regarding national security. I think the Palin choice broadcasts that his judgment is erratic and that he is more interested in winning elections than protecting America.
In other words, it's a frivolous choice that makes the Obama-Biden ticket look all the more serious in contrast.
A lot depends on how much of a clown show the GOP convention turns out to be. Eight years ago, a complacent electorate enabled a frivolous presidential candidate to get into the White House. Four years ago, a frightened and emotionally manipulated electorate repeated the mistake. But now, if the GOP convention is the convergence of social pathologies it usually is, I think this time the electorate will not be amused. Now, people are damn pissed off and want the government to be run by people who are serious about running government.
And the conventions do matter. The Dem convention of 1972 hurt McGovern. The GOP convention of 1992 hurt Bush I. Let's see what they do this time.
I think the biggest reason the polls have been so close is that people who are not paying close attention see the silvery-haired white guy who's been in Washington forever, and the young skinny not-white guy who's brand new, and they figure the older guy will be the serious one, the one with gravitas.
Yet it's McCain who has been running a silly, frivolous campaign — the only time he gets serious is when he is reminding us he was a POW 40 years ago, which is every ten minutes. Otherwise, he runs silly advertisements and has a nearly content-free campaign that consists of telling lies about what Obama might do while fudging the details (if there are any) of what McCain might do.
And a lot depends on Palin herself, and whether she can stand up to national scrutiny, with which she has had no experience, without imploding.
Heh.
Update: Andrew Sullivan —
Here's the real slogan the McCain campaign should now adopt:

Putting. Country. Last.
Update: Get this —
Palin, who portrays herself as a fiscal conservative, racked up nearly $20 million in long-term debt as mayor of the tiny town of Wasilla — that amounts to $3,000 per resident. She argues that the debt was needed to fund improvements.