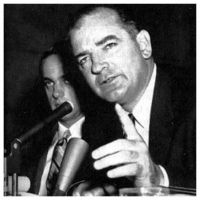 Hilzoy says the gang at The Corner "seems to have gone well and truly insane." I don't know where she gets the "seems."
The wingnuts discovered that in his 1996 state senate campaign, Obama was endorsed by the New Party, a branch of the Democratic Socialists of America. Some 12-year-old New Party campaign literature identifies Obama as "a member," and of course it doesn't occur to the wingnuts that a fringe group would ever resort to padding and propaganda.
And if we're going to play Joe McCarthy's old "guilt by association" game, let's talk about John McCain sitting on the board of the U.S. Council for World Freedom, a group linked to former Nazi collaborators and ultra-right-wing death squads in Central America.
Never mind that. The New Party and ACORN (boogaboogaboogabooga!) have infiltrated and hijacked the Democratic Party. See, the entire Democratic Party is nothing but a front for socialist world domination.
I wonder if we shouldn't just open some Evil Empire amusement parks so that the wingnuts can act out their fantasies in a safer environment.
You know the Right has slipped its tether when even David Frum is telling them to chill out.
Those who press this Ayers line of attack are whipping Republicans and conservatives into a fury that is going to be very hard to calm after November. Is it really wise to send conservatives into opposition in a mood of disdain and fury for a man who may well be the next president of the United States, incidentally the first African-American president? Anger is a very bad political adviser. It can isolate us and push us to the extremes at exactly the moment when we ought to be rebuilding, rethinking, regrouping and recruiting.
A McCain supporter was arrested for threatening to empty his shotgun at the California Louisiana registrar's office unless he got his voter registration card faster. Someone at a Palin-McCain rally shieks "kill him!" at the mention of Obama and Ayers. We're going to be very lucky if no one else flips out and launches a killing spree.