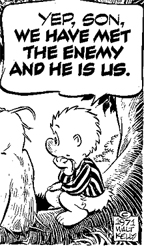 What people are talking about:
This is coming from the Left, mind you. We don't need the Vast Right-Wing Conspiracy when we've got each other. Well, go ahead and bellyache, peeps. Just do it without me. Call me naive (and I know you will), but I'm still waiting for the guy to, you know, become President and start doing President stuff before I throw my hands up and re-pack the bags for Canada.
Hasn't it hit zero yet? I'm afraid to look.
Betcha can't say it five times real fast.
Anything else going on? How's the weather where you are?