The Obama White House is behind a cynical, coldly calculated political effort to erase the meaning of the Sept. 11, 2001 terrorist attacks from the American psyche and convert Sept. 11 into a day of leftist celebration and statist idolatry.
What is this dastardly plan, you ask?
The plan is to turn a "day of fear" that helps Republicans into a day of activism called the National Day of Service that helps the left. In other words, nihilistic liberals are planning to drain 9/11 of all meaning.
The writer, Mathew Vadum, is not joking. He actually thinks there is something "nihilistic" and "leftist" about a national day of service. And I especially like the "statist" part, after Bush's shameless politicization of 9/11, which turned that day into an excuse for the Bush White House to use the Constitution as toilet paper.
If you read the article in its entirety, you pick up another important fact — many of the people behind the plot to turn the commemoration of 9/11 into "a day of activism, food banks, and community gardens" are black. Wow.
So instead of commemorating false bravado, panic, propaganda, foreign policy blunders and jingoism, we're supposed to remember the day and honor the memory of those we lost by doing something positive to help each other. Yes, it's an outrage.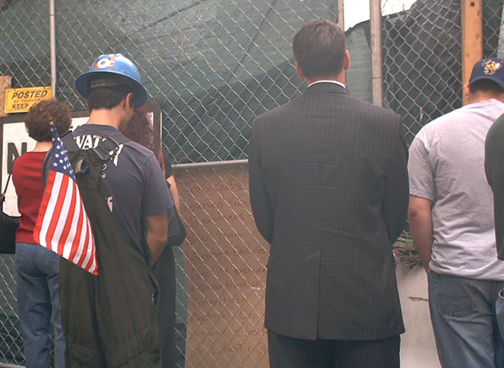 September 11, 2002 — first anniversary of September 11 attacks, outside the fence surrounding Ground Zero.