Found this on Facebook: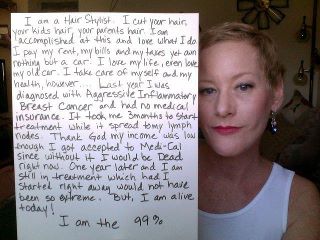 Compare/contrast to the whiners at Erick Erickson's whinefest site.
"At the Occupy protests, [anti-semites] are, at best, allowed to push their hateful messages," wrote William Teach. "At worst, the Occupyers agree with the messages." And at very worst, they're all space invaders plotting to colonize our planet. Use your imagination!
Heh. And now here's Mistermix:
Obama has raised more ($99 million) than the entire Republican field combined.
At the same time in the 2008 cycle, Romney had raised $11 million more than he has now.
Ron Paul is third, having raised a total of $12 million. He spends it, too, unlike his fellow Texan Rick Perry.
At this point in the 2008 cycle, Guiliani, Romney and McCain, combined, had raised about $100 million. This time around, Cain, Romney and Perry have raised less than half of that number.
Betcha didn't know that. I sure didn't. See also the New York Times page on who is donating what to whom.
Finally, "Elizabeth Warren's Appeal."