Let's not overstate the racism factor. While there is much wailing about those awful racists who voted for Trump, a closer look at the numbers suggest that the real story of this election was the people who didn't vote for Trump … or Clinton, or anybody else.
Carl Beijer, who writes for leftie publications, argues that this wasn't so much the bigot election as the apathy election.
From 2012 to 2016, both men and women went from caring about the outcome to not caring. Among Democratic men and women, as well as Republican women, care levels dropped about 3-4 points; Republican men cared a little less too, but only by one point. Across the board, in any case, the plurality of voters simply didn't care.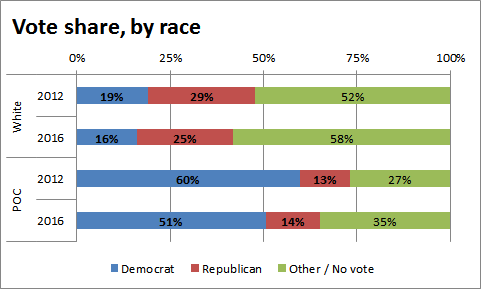 White voters cared even less in 2016 then in 2012, when they also didn't care; most of that apathy came from white Republicans compared to white Democrats, who dropped off a little less. Voters of color, in contrast, continued to care – but their care levels dropped even more, by 8 points (compared to the 6 point drop-off among white voters). Incredibly, that drop was driven entirely by a 9 point drop among Democratic voters of color which left Democrats with only slim majority 51% support; Republicans, meanwhile, actually gained support among people of color. …

… The major trend in 2016 was one of increasingly apathy. Within that broader trend, the demographic patterns are muddy. Deviations in relatively support from group to group don't map well onto the standard media narratives that dominated this election; for example, apathy grew more among women and voters of color than among men and white voters. Among the candidates, Clinton either broke even or lost support among every single demographic group, while Trump won support among voters of color and boomers.
See Carl B's blog for more data.
I've read that, particularly in the Rust Belt states, if the same numbers of people who came out for Obama in 2012 had voted for Clinton in 2016, she would have won those states, even though Trump did better than Romney did in those rust bucket states. For example, this anecdote is from Wisconsin:
Urban areas, where black and Hispanic voters are concentrated along with college-educated voters, already leaned toward the Democrats, but Clinton did not get the turnout from these groups that she needed. For instance, black voters did not show up in the same numbers they did for Barack Obama, the first black president, in 2008 and 2012.
Considering how razor-thin the margin of victory was in Wisconsin and elsewhere — there's your loss.
It also appears that some people who voted for Obama in 2012 voted for Trump in 2016. So were they not racist in 2012?
Was the loss this year a "whitelash" against the Obama Administration? If so,why didn't that cost President Obama the election in 2012? I can believe that some bigots are more worked up now than they were in 2012, considering that Trump and his followers have been stoking the fires. But if Democratic voters, including nonwhite ones, had voted as usual, we wouldn't be having this conversation.
During the primaries we were way oversold on Hillary Clinton's alleged support among African American voters. She clobbered Sanders in the early southern primaries because huge majorities of black voters chose her, and that gave her a lead that he could never catch.  Clinton supporters even held this up as proof that Bernie Sanders is racist, which was absurd, and not that Democratic voters in the South just plain didn't know who he was. As I wrote several times during the primaries, as time went on he won larger and larger percentages of black voters, and he had the support of a majority of black millennial voters.
But Beijer wrote back in June that people were misreading this.
Hillary Clinton has won an overwhelming majority of black voters who have participated in the Democratic primaries: the Wall Street Journal places her share at 75.9 percent, and my math puts it at 77.9 percent. This is certainly a better showing than we've seen seen from Bernie Sanders, who has won support from about a quarter of black voters.

But on this basis, Clinton's partisans have routinely concluded that their candidate has won some kind of democratic mandate from black Americans. While this is true in the trivial sense — she has won votes from a majority of those who actually voted — this framing overlooks the overwhelming majority of voting-age black Americans who either voted against Clinton or declined to vote at all. In fact, based on an analysis of exit polls, turnout numbers, and census data, an extraordinary 87.9 percent of voting-age black Americans have not voted for Clinton.
The news stories revealing that the Clintons were worried about African American voters began to turn up in September.
"Hillary Clinton's campaign is in panic mode. Full panic mode," said Leslie Wimes, a South Florida-based president of the Democratic African-American Women Caucus.

"They have a big problem because they thought Obama and Michelle saying, 'Hey, go vote for Hillary' would do it. But it's not enough," Wimes said, explaining that too much of the black vote in Florida is anti-Trump, rather than pro-Clinton. "In the end, we don't vote against somebody. We vote for somebody."
This article is from November 1.
African-Americans are failing to vote at the robust levels they did four years ago in several states that could help decide the presidential election, creating a vexing problem for Hillary Clinton as she clings to a deteriorating lead over Donald J. Trump with Election Day just a week away.

As tens of millions of Americans cast ballots in what will be the largest-ever mobilization of early voters in a presidential election, the numbers have started to point toward a slump that many Democrats feared might materialize without the nation's first black president on the ticket.

The reasons for the decline appear to be both political and logistical, with lower voter enthusiasm and newly enacted impediments to voting at play. In North Carolina, where a federal appeals court accused Republicans of an "almost surgical" assault on black turnout and Republican-run election boards curtailed early-voting sites, black turnout is down 16 percent. White turnout, however, is up 15 percent. Democrats are planning an aggressive final push, including a visit by President Obama to the state on Wednesday.

But in Florida, which extended early voting after long lines left some voters waiting for hours in 2012, African-Americans' share of the electorate that has gone to the polls in person so far has decreased, to 15 percent today from 25 percent four years ago.
Voter suppression was a factor in some states that Clinton lost, but not in all of them.  See Voter suppression didn't cost Hillary Clinton the election at Vox.
Of the nearly 700Â counties that twice sent Obama to the White House, a stunning one-third flipped to support Trump.

Trump also won 194 of the 207 counties that voted for Obama either in 2008 or 2012.

By contrast, of those 2,200 counties that never supported Obama, Clinton was only able to win six. That's just 0.3 percent crossover to the Democratic side.
Again, if we were to claim that racism cost Clinton the election, we'd have to conclude that people who were not racist in 2008 and 2012 had become so in 2016. Or, maybe, Clinton lost because not enough voters were enthusiastic enough about her to go to the polls and vote for her. Take your pick.
It's true that a lot of outspoken white supremacists supported Trump. But I'm writing this because I'm seeing way too many people say that we can't win over those racist voters who elected Trump, so we're doomed. It isn't that simple.