This should cheer you up. Gabriel Sherman writes for Vanity Fair:
When Donald Trump appointed John Kelly as chief of staff in July, the four-star Marine general arrived with a mandate to bring order to a freewheeling West Wing. Gone are the days of staffers waltzing into the Oval Office to lobby the president on policy or supply him with gossip. Trump still tweets, of course, but for the most part Kelly's cleanup has been successful, according to interviews with a half dozen Trump advisers, current and former West Wing officials, and Republicans close to the administration. The aide who has ceded the most influence in the Kelly era, these people said, is Trump's son-in-law, Jared Kushner."Kelly has clipped his wings," one high-level Republican in frequent contact with the White House told me.

It's perhaps hard to remember now, but it wasn't long ago when Trump handed Kushner a comically broad portfolio that included plans to reinvent government, reform the V.A., end the opioid epidemic, run point on China, and solve Middle East peace. But since his appointment, according to sources, Kelly has tried to shrink Kushner's responsibilities to focus primarily on the Israeli-Palestinian conflict. And even that brief appears to be creating tensions between Kushner and Kelly. According to two people close to the White House, Kelly was said to be displeased with the result of Kushner's trip to Saudi Arabia last month because it took place just days before 32-year-old Saudi Crown Prince Mohammad bin Salman arrested 11 Saudi royals, including billionaire Prince Alwaleed bin Talal. The Washington Postreported that Kushner and M.B.S., as the prince is known, stayed up till nearly 4 a.m. "planning strategy," which left Kelly to deal with the impression that the administration had advance knowledge of the purge and even helped orchestrate it, sources told me. (Asked about this, Sarah Huckabee Sanders responded, in part: "Chief Kelly and Jared had a good laugh about this inquiry as nothing in it is true.")
And, of course, Sarah Huckabee Sanders is really credible. See also Margaret Hartmann at New York magazine, "Kushner's White House Role Was Significantly Reduced — But Not Fast Enough."
Robert Mueller also has a special interest in Mr. Ivanka. Esme Cribb writes for Talking Points Memo:
Investigators working for Robert Mueller, the special counsel probing Russian interference in the 2016 election, are looking into contacts between White House adviser and President Donald Trump's son-in-law Jared Kushner and foreign heads of state, the Wall Street Journal reported late Tuesday.

The Wall Street Journal reported, citing unnamed sources familiar with the matter, that Mueller's investigators have questioned witnesses about Kushner's involvement in a United Nations resolution condemning Israel's settlements in disputed territories.

A day before the United Nations security council unanimously passed the resolution, Trump said it "should be vetoed."

The Wall Street Journal reported that Kushner and Trump's former chief adviser Steve Bannon were both involved in Israeli officials' outreach to Trump's administration regarding the resolution.
And also:
Investigators are also making inquiries about Kushner's meeting in December 2016 with Sergey Gorkov, the head of a Russian state-owned bank that has deep connections to Russia's intelligence agency, according to the report. The United States added the bank in question, Vnesheconombank, to its list of sanctioned entities in 2014.
Natasha Bertrand wrote for Business Insider:
Mueller's team has reportedly questioned witnesses about some of Kushner's conversations and meetings with foreign leaders during the transition, when he famously hosted former Russian ambassador Sergei Kislyak at Trump Tower and asked whether it would be possible to set up a backchannel line of communication to Moscow.

Kislyak then orchestrated a meeting between Kushner and the CEO of Russia's Vnesheconombank, Sergei Gorkov, who was appointed by Russian President Vladimir Putin in January 2016 as part of a restructuring of the bank's management team, Bloomberg reportedlast year.

The Kremlin and the White House have provided conflicting explanations for why Kushner met with Gorkov. Reuters reported earlier this year that the FBI is examining whether Gorkov suggested to Kushner that Russian banks could finance Trump associates' business ventures if US sanctions were lifted or relaxed.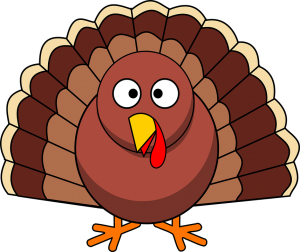 See also "Jared's Got Some 'Splainin' to Do."
I'll be hanging out with family for the next couple of days but will try to check in, WiFi access willing. Have a lovely Thanksgiving.