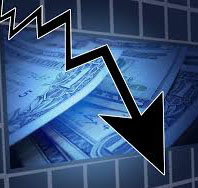 Trump's stock market has lost $1 trillion in value in the first five days of February, it says here. The Dow dropped 1500 points today before coming back up a bit. This was "the worst single-day point drop the Dow has ever sustained," it says here.
This isn't necessarily a harbinger of anything. The stock market is still pretty high, historically speaking. Most of the talking heads are calling the stock downturn a "correction." There is also concern that the Federal Reserve is draining money out of the financial system to stop inflation. But probably there's no reason to panic, they say.
I called it "Trump's stock market," however, because Trump has been bragging about how the surging stock market is a reflection of his brilliance.
As the Dow Jones industrial average climbed to new heights early this year, President Trump clamored for credit.

He might regret the campaign to claim ownership of the economy if a sudden pullback turns out to be more than just a blip. …

… Any nuanced view of the stock market acknowledges that many factors can affect prices. No president — certainly not one who has been in office for barely a year — is singularly responsible for surges or declines.

But Trump has suggested that stocks would have "tanked" if not for his victory, and he has complained that the media devotes insufficient attention to the strong market, which he counts among the "many things accomplished by the Trump administration."

"The stock market has smashed one record after another, gaining $8 trillion and more in value in just this short period of time," Trump said in his State of the Union address last week, referring to gains since Election Day 2016.
A rocky patch for the markets could become awkward for President Trump. He has repeatedly claimed credit for surging stocks, while business optimism over his push to cut taxes and lessen regulation has helped fuel the "Trump Bump."

Mr. Trump's habit of regularly boasting about stock market surges is a practice other presidents avoided. They knew that what goes up may go down again, and they did not want to take the blame for market forces beyond their control.
So, it's his stock  market. Up or down, he owns it.
Update: See also "'The president clearly set himself up': Trump's stock market miscalculation" by Ben White at Politico.