Two more days is when the fun begins. I hope. Here's the plan:
House Democrats plan to use their new majority to vote through measures that would reopen nearly all of the shuttered federal agencies through the end of September, at funding levels Senate Republicans have previously agreed to. Those spending bills contain scores of priorities and pet projects for lawmakers on both sides of the aisle.

The Democratic proposal holds out one exception: The Department of Homeland Security, which oversees border security, would keep its current level of funding, with no new money for a border wall. The plan would also extend the department's budget only through Feb. 8, allowing Democrats to revisit funding for key parts of Trump's immigration policy in a month.

"The President is using the government shutdown to try to force an expensive and ineffective wall upon the American people, but Democrats have offered two bills which separate the arguments over the wall from the government shutdown," read a joint statement from House Minority Leader Nancy Pelosi (D-Calif.), the likely next House speaker, and Senate Minority Leader Charles E. Schumer (D-N.Y.).
Trump wants to meet with congressional leaders Schumer and Pelosi, McConnell and McCarthy, tomorrow for a "briefing" on border security.
Officials from the Department of Homeland Security will brief the top two leaders in each party in the House and the Senate.

"Border Security and the Wall "thing" and Shutdown is not where Nancy Pelosi wanted to start her tenure as Speaker! Let's make a deal?" Trump tweeted Tuesday.
It's not clear whether this "briefing" will be televised the way that last White House encounter was.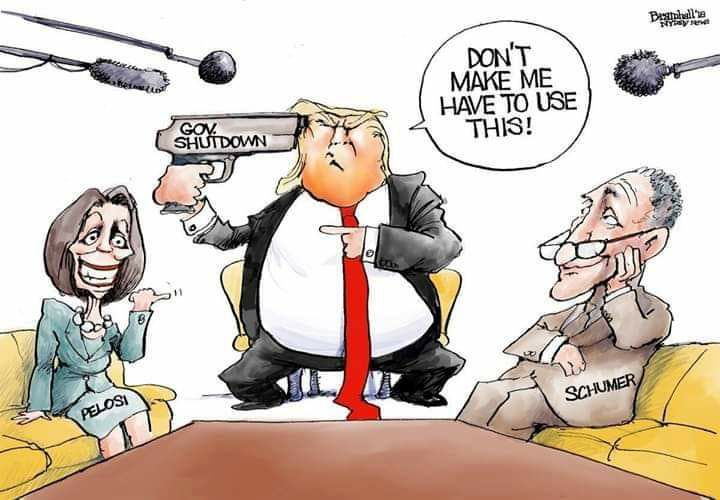 The thing is, he had a deal about a year ago that would have given him $25 billion for his wall, and he turned it down. Jim Newell wrote last March:
Rather than spending spring break stewing in the White House over what might have been, Trump could be lounging in a lawn chair by the border right now, sipping iced tea, watching as contractors erect the prototypical barrier of his liking. He could have fulfilled one of his core campaign promises to his base, a promise that not any generic Republican president would have prioritized.

And all he had to do was accept a 10- to 14-year path to citizenship for children of undocumented immigrants brought to the United States at a young age.

That deal has been on the table for more than a month now: Trump gives Democrats a path to citizenship for 1.8 million Dreamers; Democrats give Trump his full $25 billion wall funding request. The Trump administration balked at this clean trade when the Senate was negotiating immigration in February and again in the weeks before the omnibus. The master dealer always wanted something more, be it sharp cuts to family-based immigration or enhanced interior enforcement. Democrats were willing to blow money on Trump's vanity project, handing him a political victory, but they were never going to secure Dreamers' future by agreeing to the sharpest tightening of legal immigration levels in decades or selling out other undocumented immigrants.
Chuck Schumer made the original offer in January 2018, but got slammed for giving away too much to Trump. And then when Schumer gave up on the deal, he got slammed by immigration advocates.
This weekend Miz Lindsey was on the TeeVee saying he was sure the Democrats would make a new deal that give Trump $5 billion for his wall in exchange for protections for Dreamers. But I would be surprised. I suspect, or at least I hope, that Pelosi and Schumer are no longer thinking in terms of making any deal with Trump, but rather are looking to box in Mitch McConnell in the Senate. Mitch can either put the House bill up for a vote or have the shutdown hung around his flabby neck.