Have I mentioned that the governor of Missouri, Mike Parson, is utterly worthless? I believe I have.
In our latest episode, a reporter at the St. Louis Post-Dispatch discovered that what appeared to be the social security numbers of more than 100,000 of the state's teachers were visible in the html code of a state online database. The Post-Dispatch then consulted with three educators and a cybersecurity expert to confirm that the nine-digit numbers in the code were in fact Social Security numbers. Yep, they were.
For the techie-challenged, the html code of any page can be viewed with any browser I know of. Right-click on this page and look at the menu that pops up. Click on "view (or show) page source" or "inspect." There it is.
The Post-Dispatch notified the state agency hosting the database so the problem could be corrected, or at least taken offline, before the story became public. Yesterday, the newspaper published the story.
So then Gov. Idiot trots out and makes a complete ass of himself. It's especially fun to hear Parson accuse the Post-Dispatch of trying to embarass his administration while Parson is standing there doing a bang-up job of embarassing his administration.
My favorite tweet about this, so far:
BREAKING NEWS: this is the sophisticated 8-step process that @GovParsonMO alleges hackers used to breach the state's sensitive data stores:

1. right click
2. View Page Source
3. look
4. at
5. the
6. HTML
7. and
8. see what it says

Could this be Russia's doing??? ?

— Sam Sycamore ? ? (@tanoaksam) October 14, 2021
Here's the front page of today's Post-Dispatch: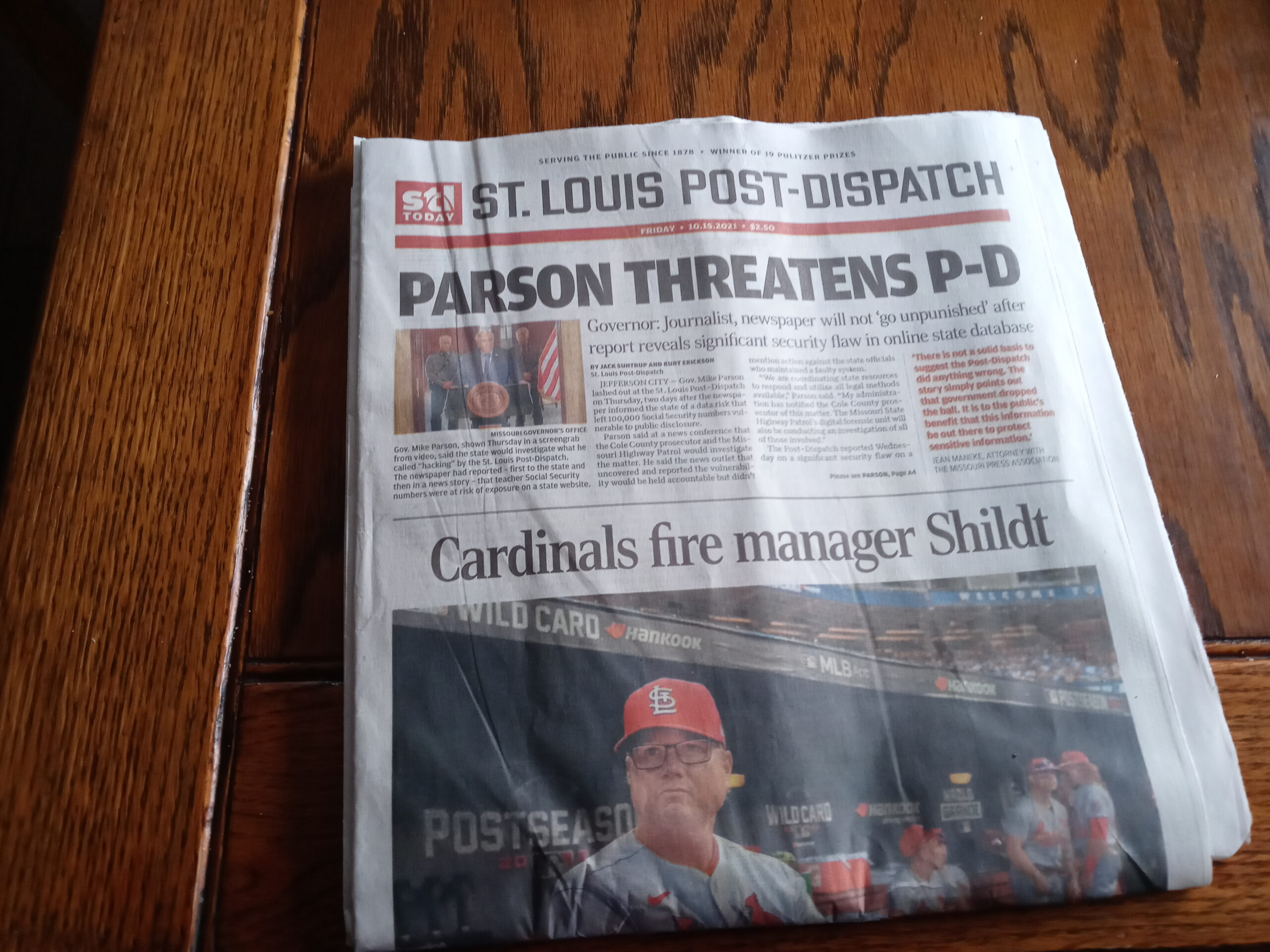 Yeah, the Cardinals fired manager Mike Shildt after he took the team through a record-breaking winning streak and into a Wild Card game. This was the doing of president of baseball operations John Mozeliak. Mozeliak said the firing was over "philosophical differences," which people are taking to mean Shildt did something to piss off Mozeliak. St. Louis is pissed. But let's go on.
Parson is not backing down or yet acknowledging he had no idea what he was talking about when he accused a reporter of "hacking" the "HTN MLN" source code. Today the state's news media are advising Parson to get over it and get serious about cybersecurity, as he's been warned about before.
What a maroon.