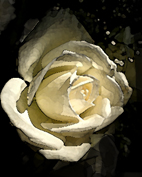 Nate Silver has picked up on my generational political "imprinting" hypothesis, which says that at the point a new generation becomes old enough to be aware of politics, it is "imprinted" with whatever narrative is playing out in politics at the time. That imprinting carries with it political memes and values that will stick with most people of that generation the rest of their lives, no matter what.
My hypothesis was based on pure observation, but Nate, bless him, has real data. And he says that much voter behavior hinges on the question "Who was president when you turned 18?"
Nate has a chart that shows people who turned 18 during the Eisenhower and Reagan administrations are more likely to identify themselves as "Republican" than people who turned 18 during any other recent administration. And if this trend continues, the GOP had better be worried. The crop of young folks who turned 18 during the G.W. Bush administration is the least Republican generation ever.
Nate says this political partisan imprinting can be "quite persistent as the voter moves through her lifecourse." In other words, once imprinted, the imprinting tends to stick, even if political reality changes. The imprinting going on now will impact politics for the next half century.
Heh.
Along the same lines, Morley Winograd and Michael D. Hais write for the Los Angeles Times that "The Republican Party ignores young 'millennials' at its peril."
The "millennials" — the generation of Americans born between 1982 and 2003 — now identify as Democrats by a ratio of 2 to 1. They are the first in four generations to contain more self-perceived liberals than conservatives. …

…Only 9% of millennials polled expressed a favorable opinion of the Republican Party. Only 7% were positive about the GOP's congressional leaders. By contrast, 65% of millennials had a favorable opinion of the Democratic Party, and a majority also approved of congressional Democrats.
The authors attribute this shift to how the millennials were raised, but I think the real difference is George W. Bush and the current Republican Party. These young folks came of age during a national train wreck.
For the first time in living memory, young people do not assume their lives will be as financially blessed as their parents were. Even those who go to college and who get "better" jobs spend much of their early adulthood paying off college loans instead of saving for the first house. "Job security" has become an oxymoron. Once they're too old to be carried on their parents' health insurance, vast numbers of young people are cut off from receiving medical care.
And the GOP is utterly oblivious to this. Republicans are not addressing these issues at all except to call for continuing the failed policies that created the current reality. This is not to say Democrats will do a better job of addressing these issues, but at least Democrats seem to have a clue.
Millennials tend to be more knowledgeable about environmental issues and more accepting that global climate change is real than previous generations. They also are less homophobic. The current GOP is laissez faire on economics and business, but authoritarian on social issues. But millennials tend to be laissez faire on social issues and want to see government play a more pro-active role in steering the economy. They feel locked out and want the nation's wealth to be "redistributed," dammit!
Two other op eds at the Los Angeles Times deserve mention. Mickey Edwards, who appears to be a conservative, argues that "The Nation Needs a Better GOP."
If Democrats control the legislative and executive branches without meaningful opposition, the country will be the weaker for it. Some of President Obama's initiatives would dramatically shift the boundaries between public and private, reshape the relationship between citizens and government and alter the lens through which America views its international commitments. These are serious matters and deserve serious, and constructive, engagement.
In the long run it is far better for the country if a broad range of views — or, at least, as broad a range of views as one finds in American politics, which generally isn't that broad — is represented in government. It's good when the majority view is challenged intelligently by a thoughtful minority. If nothing else, it keeps the majority on its toes and goads them into thinking through their proposals more clearly. However,
Today, the Republican belief system has degenerated into an embarrassing hodgepodge that worships political victory more than ideas; supports massive deficits; plunges the nation into "just-in-case" wars without adequate troops, supplies or armor; dismisses constitutional strictures; and campaigns on a platform of turning national problem-solving over to "Joe the Plumber." It's hard to see how all that points the way to a reawakening of voters to trust in the GOP. …

… Merely attacking administration proposals and labeling Obama a "socialist" will only ensure that instead of rebounding, as the GOP did in 1968, the party will slip even further into irrelevance. And that will not be good for America.
Finally, one other op ed says "What Republicans need is a mutiny." To take the party away from the troglodytes, yes? Alas, this op ed was written by Richard A. Viguerie, a troglodyte's troglodyte.
Democrats have nothing to fear from today's Republican Party leaders. That's why Democrats have taken to targeting Rush Limbaugh and others who aren't in formal leadership positions in the GOP but who forcefully articulate a conservative vision.
To paraphrase the Gipper, anyone who thinks Rush Limbaugh is forcefully articulating "a conservative vision" is the problem, not the solution.

Update: Fred Barnes actually wrote this for next week's Weekly Standard:
Improving the party's image is a worthy cause, but it isn't what Republicans ought to be emphasizing right now. They have a more important mission: to be the party of no. And not just a party that bucks Obama and Democrats on easy issues like releasing Gitmo terrorists in this country, but one committed to aggressive, attention-grabbing opposition to the entire Obama agenda.
I hope all Republicans read this and pay close attention to what Fred says.
If Republicans scan their history, they'll discover unbridled opposition to bad Democratic policies pays off. Those two factors, unattractive policies plus strong opposition, were responsible for the Republican landslides in 1938, 1946, 1966, 1980, and 1994. A similar blowout may be beyond the reach of Republicans in 2010, but stranger things have happened in electoral politics. They'll lose nothing by trying.
GOP: Barnes is a wise man, and you should do what he says. Please.