Oct 31, 2005
Bush Administration
,
Supreme Court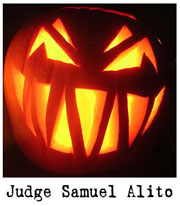 I'm sorry about the page display problem. The site looks fine in Firefox, but is scrambled up in Internet Explorer. I'll try to get it fixed today. If you can't wait, though, download Firefox (free).
Anyway–Reuters is reporting that Bush is going to nominate U.S. federal appeals court judge Samuel Alito to replace Sandra Day O'Connor on the Supreme Court. RedState is thrilled. Therefore, be very afraid.
Here's the scoop from Law.com:
In ACLU v. Schundler, Alito wrote the majority opinion holding that a city's holiday display that included a créche and a menorah did not violate the establishment clause of the First Amendment because it also included secular symbols such as Frosty the Snowman and a banner promoting racial diversity.

On abortion, Alito was the lone dissenter in Planned Parenthood v. Casey, in which the 3rd Circuit struck down a Pennsylvania law that required women seeking abortions to inform their husbands.

Alito argued that the Pennsylvania law's restrictions should have been upheld, saying "the Pennsylvania Legislature could have rationally believed that some married women are initially inclined to obtain an abortion without their husbands' knowledge because of perceived problems — such as economic constraints, future plans or the husbands' previously expressed opposition — that may be obviated by discussion prior to the abortion."
In other words, husbands can veto a woman's decision to terminate a pregnancy. We're just cows, after all.
The case went on to the Supreme Court, resulting in a 6-3 decision that reaffirmed Roe v. Wade and struck down the spousal notification provision of the law. But late Chief Justice William Rehnquist, in his dissent, quoted Alito's underlying dissent and said he agreed with his reasoning.
Other Alito rulings have made it easier for employers to practice race and sex discriminate. What a guy. No wonder the Right loves him.
Update: It's official — Alito is the choice. We could have a fight on our hands, says CNN:
Senate Minority Leader Harry Reid — a Nevada Democrat who had recommended Miers — said Sunday he feared Bush would "try to placate the right wing" with his next nominee, "and that's a mistake."

"If he wants to divert attention … he can send us someone who's going to cause a lot of problems," Reid told CNN, saying the "radical right wing" was "pushing all his buttons, and he may just go along."

Reid said the choice of Alito "would create a lot of problems."

"That is not one of the names that I've suggested to the president," he said. "In fact, I've done the opposite."
At least, if the Dems put up a fight, righties can no longer argue that the president's nominee automatically deserves a vote in the Senate. Harriet Miers never got one.