May 3, 2006
Bush Administration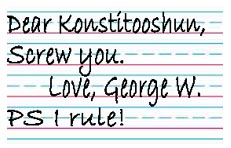 Charlie Savage writes in today's Boston Globe:
The chairman of the Senate Judiciary Committee, accusing the White House of a "very blatant encroachment" on congressional authority, said yesterday he will hold an oversight hearing into President Bush's assertion that he has the power to bypass more than 750 laws enacted over the past five years.

"There is some need for some oversight by Congress to assert its authority here," Arlen Specter, Republican of Pennsylvania, said in an interview. "What's the point of having a statute if . . . the president can cherry-pick what he likes and what he doesn't like?"
Specter plans to call administration officials and constitutional scholars to the hearings, to be held in June. Even if the Senate finds Bush really has exceeding his authority, there is little they can do about it beyond refusing to fund programs — or impeachment.
Specter's announcement followed a report in the Sunday Globe that Bush has quietly asserted the authority to ignore provisions in 750 bills he has signed — about 1 in 10.

Over the past five years, Bush has stated that he can defy any statute that conflicts with his interpretation of the Constitution. In many instances, Bush cited his role as head of the executive branch or as commander in chief to justify the exemption.
On Monday night's Countdown, Savage explained that often the laws Bush says he can ignore have nothing to do with war or national security, however.
OLBERMANN: With the signing statements or the PATRIOT Act renewal, the ban, military ban on torture, it seemed as if an argument could have been made for preserving the wartime powers of the president. That certainly can be argued. But there was something there to discuss.

But in some of these cases, whistleblower protections, nuclear regulatory officials, and what—the war has nothing to do with that, does it?

SAVAGE: That's right, Keith. There's the—in the domestic spying program scandal last year, which continues, the torture ban waiver that he asserted, and more recently, the—his assertion that he could ignore the oversight provisions of the PATRIOT Act.

The common theme in all those was, I'm the commander in chief, we're at war. No matter that the Constitution gives all kinds of war-making powers to Congress, really, these laws don't apply when we're at war, because I have to protect the national security.

But what I found when I went back and read all these documents, which no one has paid attention to in the media or in Congress for the last five years, is that Bush's claims that he can ignore and defy laws that he thinks, under his own interpretation of the Constitution, are unconstitutional, has gone well beyond anything to do with national security.

Certainly the military and spy agencies have a lot to do with these laws that he's saying he doesn't have to obey, but there's many others that have to do with giving information to Congress, protecting whistleblowers who want to bring government wrongdoing to the attention of Congress, affirmative action, which has nothing to do with national security at all, or even his own interpretation of his own powers, but rather his interpretation of the, you know, the equal protection clause of the amendment, which is—the Supreme Court has been quite clear about.
Read Glenn Greenwald for more analysis.
When Bush doesn't like a bill, instead of trying to compromise with Congress, or even veto the bill, he pretends to accept it and then negates the bill behind Congress's back with a "signing statement." I wrote about signing statements in more detail, including their use by past presidents, in this post. Bottom line, Bush is claiming power no other president has claimed, including Abraham Lincoln during the Civil War and Franklin Roosevelt during World War II, because he's a "war president." Or "the decider." Or whatever he wants to call himself.
I say this indicates what a piss-poor leader the man is. Exercising power is not the same thing as leadership, as John Gardner argued —
Although leadership and the exercise of power are distinguishable activities, they overlap and interweave in important ways. Consider a corporate chief executive officer who has the gift for inspiring and motivating people, who has vision, who lifts the spirits of employees with a resulting rise in productivity and quality of product, and a drop in turnover and absenteeism. That is leadership. But evidence emerges that the company is falling behind in the technology race. One day with the stroke of a pen the CEO increases the funds available to the research division. That is the exercise of power. The stroke of a pen could have been made by an executive with none of the qualities one associates with leadership.
Seems to me "leadership" involves the free and willing followship of other people. But a dictator is someone who has enough power that he doesn't have to bother about leading.