Today is the California recall election. Note that Gov. Newsom's chief rival, the seriously demented Larry Elder, has already conceded and is claiming election fraud. Make of that what you will.
The flap du jour is that Alexandria Ocasio-Cortez wore a dress with the words "tax the rich" splashed on it to the Met Gala in NYC. If you aren't familiar with the Met Gala, understand that it's a fundraiser for the Metropolitan Museum of Art Costume Institute. Some people come in haute couture; some people come in costumes; some people wear haute couture costumes. For example, check out what actor Dan Levy wore. See also Kim Kardashian's all-black ensemble, by Balenciaga.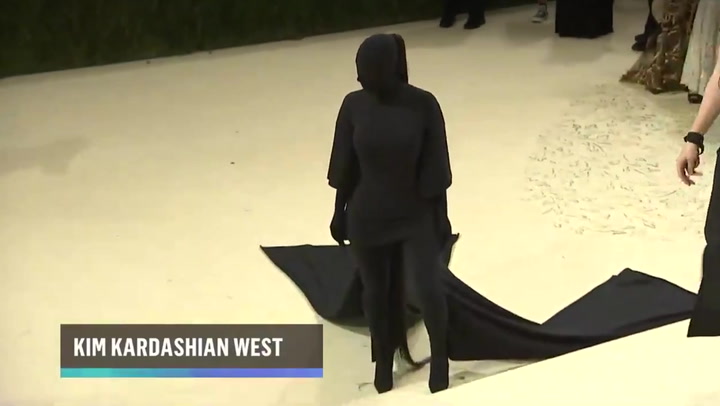 Yeah, her face was covered. I doln't know why. The Met Gala is very trippy. I understand AOC's dress, which looked great on her, was designed by an African-American designer and was just borrowed for the evening. Here's AOC, and I believe the lady with her is her designer, Aurora James. By Met Gala standards, this is downright sedate.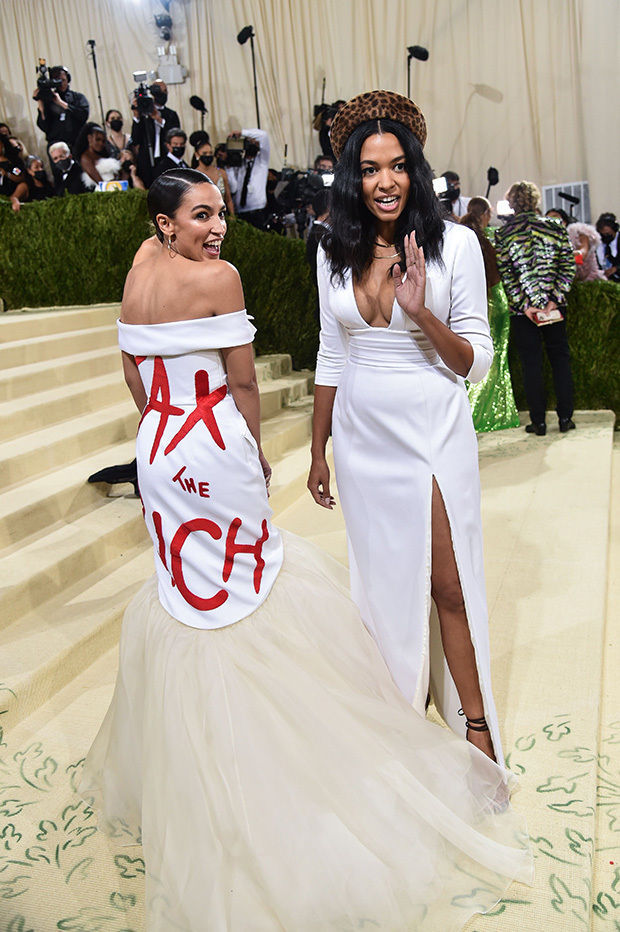 I take it that the entire rightie media echo chamber is having a screaming fit about the dress today.
Speaking of screaming fits, Bob Woodward has a new book out, and newspapers are reporting on the juicy bits. After January 6, it says, Trump had a meltdown. Gen. Mark Milley believed Trump wasn't mentally fit to be trusted with the car keys; Trump was screaming at everyone and constructing his own reality about his election loss. So Milley called a meeting with top officials in the Pentagon and made it clear no one was to carry out orders from Trump without checking with Milley first. And Milley made back channel phone calls to a top general in China to assure him that he wouldn't let Trump nuke Beijing.
There are also some new questions about Mike Pence's role in the January 6 insurrection as a result of the new book. Woodward also reveals that on November 11, 2020, Trump issued an order for all troops to be withdrawn from Afghanistan and Somalia by January 15. No one on the National Security staff were consulted about this, and apparently the People In Charge of These Things just decided to ignore the order.
In the New News department — Senate Democrats have written up a new voter rights bill with input from Joe Manchin. I take it this is a bill that can get the votes of all 50 Democrats, for what good that will do. According to this guy named Mark Elias, it's a decent bill that would do some good. However, I have no idea who Mark Elias is or why I should respect his opinion.
The catch, of course, is that there is no way any Republican would vote to close debate on the thing and allow a vote on the bill unless Manchin and Sinema cave on the filibuster rule.
Finally, see Sorry, Everyone, but Congress Is Bringing Back Debt Ceiling Foolishness by Grace Segers at The New Republican. I don't have the strength to think about another debt ceiling fight now.