Jul 9, 2006
blogging
,
Bush Administration
Please note the following chart: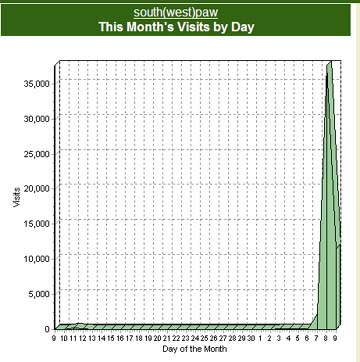 This chart shows traffic patterns on Debbie Frisch's blog over the past 30 days. Here it is for the past week.
Now, what do these charts tell us? They tell us that Debbie Frisch got next to no traffic before the recent little dust-up with Jeff Goldstein. As of right now her sitemeter says she gets 5,781 average daily visits. Before this weekend she was getting, um, way less. Possibly fewer than 100 visits a day. I took a look at her site meter yesterday afternoon after the controversy was already spreading around the blogs, and her average at the time was under 500.
Skippy figured out that Frisch has been blogging less than a year, and in that time she had been honored with a total of 12 links to her site before the Goldstein flap.
I bring this up because this fellow wrote,
Well checking her site meter it looks like Ms. Frisch is averaging 5,700 hits a day with today well over 10k hits already. I am sure her average has spiked due to this controversy. Still looking at Maha's meter her blog is averaging only 1,800 hits per day. Maha has been around a lot longer but Ms. Frisch's blog is definitely not some unknown lil voice out in the internet wilderness.
Yes, it is.
Update: Preemptive Karma offers an apology. But not for Frisch.
Update: I see from Memeorandum that the righties are still nipping at Frisch, who is warped enough to still be responding to them. Look, I don't know what Frisch's problem is. I don't know if she's just immature or if she's bipolar or is being deliberately provocative to drive up her traffic — which is working brilliantly — but it's way past time to leave it alone. I learned a long time ago on the Internets that when it becomes clear the person you are "debating" is a few clowns short of a circus, it's time to walk away. Let 'em have the last word, and just walk away, and ignore or twit filter the loon in the future.