Mar 30, 2007
Republican Party
,
September 11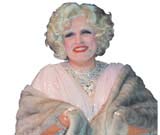 The hot news item this morning is that Rudy Giuliani was told back in 2000 that Bernie Kerik was suspected of having ties to organized crime. Giuliani made Kerik New York Police Commissioner anyway.
Last year Giuliani testified under oath to a grand jury that he remembered receiving no such information.
(Republicans never remember anything unless they think Bill Clinton did it. Then they can dredge up details of 15-year-old rumors and accusations with remarkable clarity.)
You might remember that recently Kerik rejected a federal plea deal that would have required prison time. Bernie is suspected of mortgage fraud, tax fraud, conspiracy to eavesdrop and making false statements on his application to become U.S. Homeland Security Secretary.
In other Rudy news, NYC firefighters are renewing their attacks on Giuliani for his performance before and after the September 11 attacks. Much of what's in this article I've written about before, here and here. But if you haven't heard about the firefighter's grievances, read the article linked.
He also told Barbara Walters that if he were president his wife might sit in on cabinet meetings. I remember when Rosalynn Carter and Hillary Clinton took visible policy roles in the White House the Right pitched a fit.