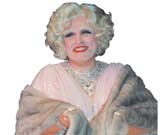 Just a couple of quick notes on Rudy Giuliani — Rudy's close buddy and one-time Director of Homeland Security nominee Bernie Kerik rejected a federal plea deal that would have required prison time. Bernie is suspected of mortgage fraud, tax fraud, conspiracy to eavesdrop and making false statements on his application to become U.S. Homeland Security Secretary. See No More Mr. Nice Blog for more.
Rudy also was a conspicuous no show at the International Association of Firefighters convention. Reuters reports:
Giuliani angered the 280,000-member union when he cut off efforts to recover the remains of September 11 victims before all had been found.

IAFF President Harold Schaitberger said Giuliani's actions were "so egregious" that union leaders debated whether to invite him, although they ultimately did.