Remember last year, when the Republican Party used conservative churches to campaign for Bush?
The Bush-Cheney reelection campaign has sent a detailed plan of action to religious volunteers across the country asking them to turn over church directories to the campaign, distribute issue guides in their churches and persuade their pastors to hold voter registration drives. …

… The instruction sheet circulated by the Bush-Cheney campaign to religious volunteers lists 22 "duties" to be performed by specific dates. By July 31, for example, volunteers are to "send your Church Directory to your State Bush-Cheney '04 Headquarters or give [it] to a BC04 Field Rep" and "Talk to your Pastor about holding a Citizenship Sunday and Voter Registration Drive."

By Aug. 15, they are to "talk to your Church's seniors or 20-30 something group about Bush/Cheney '04" and "recruit 5 more people in your church to volunteer for the Bush Cheney campaign."

By Sept. 17, they are to host at least two campaign-related potluck dinners with church members, and in October they are to "finish calling all Pro-Bush members of your church," "finish distributing Voter Guides in your church" and place notices on church bulletin boards or in Sunday programs "about all Christian citizens needing to vote." [Alan Cooperman, The Washington Post, July 1, 2003]
Here's another one:
The Republican National Committee is employing the services of a Texas-based activist who believes the United States is a "Christian nation" and the separation of church and state is "a myth."

David Barton, the founder of an organization called Wallbuilders, was hired by the RNC as a political consultant and has been traveling the country for a year–speaking at about 300 RNC-sponsored lunches for local evangelical pastors. During the lunches, he presents a slide show of American monuments, discusses his view of America's Christian heritage — and tells pastors that they are allowed to endorse political candidates from the pulpit. [Deborah Caldwell, Beliefnet, 2004]
Well, folks, that was then, and this is now: Patricia Ward Biederman and Jason Felch of the Los Angeles Times write that the feds have a different standard for liberal churches.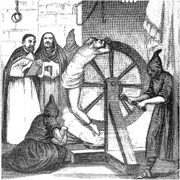 The Internal Revenue Service has warned one of Southern California's largest and most liberal churches that it is at risk of losing its tax-exempt status because of an antiwar sermon two days before the 2004 presidential election.

Rector J. Edwin Bacon of All Saints Episcopal Church in Pasadena told many congregants during morning services Sunday that a guest sermon by the church's former rector, the Rev. George F. Regas, on Oct. 31, 2004, had prompted a letter from the IRS.

In his sermon, Regas, who from the pulpit opposed both the Vietnam War and 1991's Gulf War, imagined Jesus participating in a political debate with then-candidates George W. Bush and John Kerry. Regas said that "good people of profound faith" could vote for either man, and did not tell parishioners whom to support.

But he criticized the war in Iraq, saying that Jesus would have told Bush, "Mr. President, your doctrine of preemptive war is a failed doctrine. Forcibly changing the regime of an enemy that posed no imminent threat has led to disaster."
Apparently the IRS has doctrinal issues with All Saints:
On June 9, the church received a letter from the IRS stating that "a reasonable belief exists that you may not be tax-exempt as a church … " The federal tax code prohibits tax-exempt organizations, including churches, from intervening in political campaigns and elections.
The IRS offered All Saints a dispensation if it agreed to repent:
After the initial inquiry, the church provided the IRS with a copy of all literature given out before the election and copies of its policies, Bacon said.

But the IRS recently informed the church that it was not satisfied by those materials, and would proceed with a formal examination. Soon after that, church officials decided to inform the congregation about the dispute.

In an October letter to the IRS, Marcus Owens, the church's tax attorney and a former head of the IRS tax-exempt section, said, "It seems ludicrous to suggest that a pastor cannot preach about the value of promoting peace simply because the nation happens to be at war during an election season."

Owens said that an IRS audit team had recently offered the church a settlement during a face-to-face meeting.

"They said if there was a confession of wrongdoing, they would not proceed to the exam stage. They would be willing not to revoke tax-exempt status if the church admitted intervening in an election."

The church declined the offer
What's next? Thumb screws? Iron maidens?
Update: See Steve Clemons, "Religion, Wars, and the IRS: Pro-War Sermons Get Tax Privilege; Anti-War Sermons Not"
Update update: See Dave Johnson, "IRS Cracking Down On War Opponents" and John Aravosis, "Bush administration threatens liberal church for being anti-war."