I'm doing some "thinking out loud" today, or more accurately, "thinking on blog." Forgive me if I wander a bit.
Righties are up in arms about cartoons lately. On the one hand, some righties are angry that the Washington Post published this cartoon by Tom Toles that ridicules Don Rumsfeld. On the other hand, other righties are angry that a major American newspaper won't publish these cartoons, which ridicule the Prophet Mohammad.
Michelle Malkin argues that righties are not, in fact, being inconsistent. Those opposed to the Tom Toles cartoon (including the Joint Chiefs of Staff) are not issuing death threats or rioting in the streets the way some Muslims are about the Mohammad cartoons. The Toles objectors are just speaking out, writing letters to the editor, and otherwise exercising free speech. John at AMERICAblog reveals that the people objecting to the cartoon aren't making any sense, but Malkin has a point — so far I haven't seen any of them threatening violence. Anger at the publication of the Mohammad cartoons, however, has set off violence throughout the Muslim world.
(On the other hand, as a commenter to AMERICAblog points out, when the Joint Chiefs of Staff send a formal objection on official letterhead objecting to the political content of a newspaper, the newspaper editors might feel a bit intimidated. See also comments from Editor & Publisher.)
The Mohammad cartoon crisis began on September 30, when the Danish newspaper Jyllands-Posten published the 12 cartoons of the Prophet Mohammad. When angered Muslims threatened the newspaper and Denmark with various reprisals, including a boycott of Danish products, several European newspapers reprinted the cartoons as an act of solidarity with the right to free speech. Since then violence has escalated — Palestinian gunmen shut down a European Union office in Gaza City. Protesters besieged the Danish embassy in Indonesia. And so on.

Malkin and others on the Right are unhinged over the fact that American news outlets are refraining from publishing the cartoons, which are all over the web (link above).
I understand the urge to express solidarity for free speech. I remember when the Ayatollah Ruhollah Khomeini — a really disgusting guy in my book — condemned Salman Rusdie to death after publication of The Satanic Verses. Americans flocked to bookstores to buy the book just to show the Ayatollah he can't tell us what to read. That was noble. So why aren't American newspapers showing Muslims they can't tell us what to publish? Is this not giving in to the terrorists?
I'll come back to that question in a minute. The other argument righties present for publishing the cartoons is based that old, bedrock conservative moral principle — they do it too. Specifically, other people make fun of Jesus, so why can't we make fun of Mohammed? Malkin has more "they do it too" examples here.
Seems to me Jesus already explained that the "they do it too" defense doesn't hold water.
But I say unto you, That ye resist not evil: but whosoever shall smite thee on thy right cheek, turn to him the other also. … Ye have heard that it hath been said, Thou shalt love thy neighbour, and hate thine enemy. But I say unto you, Love your enemies, bless them that curse you, do good to them that hate you, and pray for them which despitefully use you, and persecute you; That ye may be the children of your Father which is in heaven: for he maketh his sun to rise on the evil and on the good, and sendeth rain on the just and on the unjust.
I interpret that to mean "just because somebody does something that pisses you off doesn't make it OK for you to do the same thing." I'm dismissing the "they do it too" argument as typical rightie hypocritical whining.
So let's go back to the "free speech" argument. Are U.S. news outlets refusing to publish the cartoons because they are spineless cowards, or could there be another principle involved?
Earlier today, the U.S. State Department took sides with the Muslims:
While recognizing the importance of freedom of the press and expression, State Department press officer Janelle Hironimus said these rights must be coupled with press responsibility.

"Inciting religious or ethnic hatred in this manner is not acceptable," Hironimus said. "We call for tolerance and respect for all communities and for their religious beliefs and practices."
Malkin argues that the State Department is betraying the principle of free speech. On the other hand, as I recall we've got this little "ending tyranny in our world" project going on in Iraq, and it seems to me that if we are serious about that program (a debatable point, I know) we need to be careful that our words and actions regarding the Muslim world support the program. Encouraging newspapers to publish the cartoons might feel gratifying, but in the long run it could make anything resembling "success" in Iraq more difficult to achieve. And if we're trying to persuade Muslims that the western way of doing things is superior, showing them that we are free to ridicule the Prophet may not be the best argument. I'm just sayin'.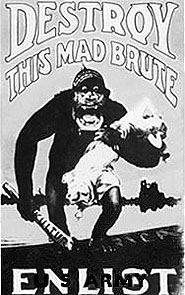 I have one other argument against publishing the cartoons — they're stupid cartoons. They're crude. You may disagree, but IMO their only point is that Mohammad (and Muslims) are bad. They remind me of old war cartoons depicting "the enemy" in a way that makes us a tad squeamish when we look at them now.
This set me to thinking about what makes a good political cartoon. I've heard it said that a good political cartoon exaggerates to reveal an underlying truth. If the "truth" is a common bias or prejudice, where's the revelation? IMO a good cartoon should have an eye-opening quality, like a mini-kensho; they should make you slap your head and say, wow, that's right. I see it now. On the other hand, cartoons that serve only to reinforce bigotry are propaganda.
For that reason, I can't get worked up into a pitch of free-speech righteousness about publishing these cartoons. I can imagine a cartoon I might support — say, something that reveals an ugly truth about bin Laden or Zarqawi, for example. No problem with that. But these particular cartoons are not worth going to the mattresses over, I say.
What do you think?

Update: More about what distinguishes a good political cartoon from the master, Herblock.

Update update: Andrew Sullivan writes, "The cartoons were not designed to "incite religious or ethnic hatreds." They were designed to protest such incitement – and we have the corpses of Theo van Gogh and Pim Fortuyn as useful proof." Oh good; protest religious and ethnic hatred with more religious and ethnic hatred. Yes, children, another variation of "they do it too!"
Occasions of hatred are certainly never settled by hatred. They are settled by freedom from hatred. This is the eternal law.

Others may not understand that we must practice self-control, but quarrelling dies away in those who understand this fact. — The Buddha (the Dhammapada, Pairs 3-6)

Update update update: I think this editorial in The Guardian gets it right.