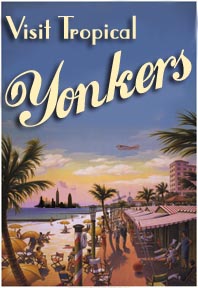 It's snowing in southern Westchester County. Another setback for the plans to turn my co-op into a tropical beachfront resort.
Speaking of snow jobs, yesterday Condi Rice seemed to deny that the U.S. is building permanent bases in Iraq. Liz Sidoti reports for the Associated Press:
Rice did not say when all U.S. forces would return home and did not directly answer Rep. Steven Rothman (news, bio, voting record), D-N.J., when he asked, "Will the bases be permanent or not?"

"I would think that people would tell you, we're not seeking permanent bases really pretty much anywhere in the world these days. We are, in fact, in the process of removing base structure from a lot of places," Rice replied.
Huh? Was that a denial, or not?