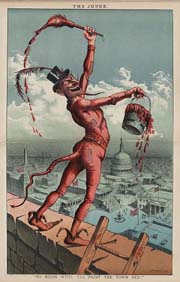 Today's phony controversy being used to distract voters from real issues, from the New York Times:
Mr. Kerry, the 2004 Democratic presidential candidate who is believed to be considering another run for the White House in 2008, set the stage for bitter back-and-forth as he addressed a gathering at Pasadena City College in California.

The senator, who was campaigning for the Democratic gubernatorial candidate, Phil Angelides, opened with several one-liners, joking at one point that President Bush had lived in Texas but now "lives in a state of denial."

Then, Mr. Kerry said: "You know, education, if you make the most of it, you study hard, you do your homework and you make an effort to be smart, you can do well. If you don't, you get stuck in Iraq."
The usual herd of sheep — I'm not going to link; you know who they are — bought the GOP line that Kerry was insulting the troops. Remarkably, at the beginning of today's Hardball both Chris Matthews and Republican former Senator Congressman Richard Armey admitted that Kerry was referring to George W. Bush getting stuck in Iraq, not the troops.
Oliver Willis has John Kerry's full response. Here is a press release from John Kerry's web site. See also Taylor Marsh.
And on a day nearly every rightie blogger is thumping his/her chest over who loves the troops more — Republican staffers of Virginia Senator George Allen assault a Marine vet.
Kerry is not a candidate for anything right now, but that isn't stopping the Bushies from bubbling over in fake outrage to fire up the base against the evil Democrats. Because, you know, if one Democrat says something (that he didn't actually say), all Democrats must think exactly the same way.
It's nasty out there, people. E.J. Dionne writes,
Whatever else it will be remembered for, this year's campaign will mark the moment when Republican leaders who govern in the name of conservatism turned definitively away from hope and waged one of the most trivial and ugly campaigns in our country's history. …

… this year Republican campaigners and their advocates in the conservative media have crossed line after line in sheer meanness, triviality and tastelessness. Conservative optimism and its promise of morning in America have curdled into the gloom of a Halloween midnight horror show.
It was always obvious to me that the "morning in America" promise was only for rich and heterosexual white people. And when walking vegetables like David Brooks or George Will write about how conservatives are so much more optimistic and lighthearted than Dems, I never bought that, either. What conservatives are is more out of touch with their own emotions. They're miserable, hateful little buggers most of the time. That's what makes them conservatives.
And, frankly, this campaign doesn't seem all that much different from the last several campaigns to me. The righties have been pelting us with feces for the past several elections cycles.
I saw a Daily Show montage this morning in which every Republican candidate shouted some version of the argument that Democrats would "raise taxes" and "lose the war" in Iraq. Bush said the same thing yesterday. I get pretty depressed by the state of the world when I see this kind of thing because of how stupid these people assume voters must be. Who started this war that we are now losing and will continue losing until we've finally admitted we lost? Who destroyed the fiscal balance they inherited from the Clinton administration and helped cause the single worst reversal of fiscal fortune in the country's history? And just how would a Democratic House or Senate "raise taxes" without Bush's signature on a bill? Does anyone think they are about to assume a "veto-proof" majority? In other words, the Republicans are running a campaign on what is, whatever you happen to believe politically, pure nonsense. And not only do they expect it to work, none of the smart-guy pundits think to call them on it. Sad, sad, sad, particularly when you think about how many hundreds of thousands of people must die in Iraq and elsewhere, for this idiocy.
Bush is campaigning his desperate little ass off — if only he'd put that much energy into, you know, governing. He's flat-out saying that if the Dems take back Congress, the terrorists will win. And then — get this — when Sean Hannity asked Bush about criticism of him from Democrats, Bush said — "It's sad that we can't have a civil discourse in the midst of historic times."
I think I'll blow that up a bit.
"It's sad that we can't have a civil discourse in the midst of historic times." — George W. Bush
I've got to admit — the boy's got some cojones.
Update: I had to laugh at this, from John Cole at Balloon Juice:
A general rule of thumb regarding controversies like this is to count how many posts Michelle Malkin has about the issue, and to note that there is a positive correlation to how trivial the matter is and how many posts she has about it. At my last count, she had four on her site, two on her spin-off site Hot Air (who I still think ripped their name off from me). That would tell me that this issue would be somewhere between Cindy Sheehan and crescent-shaped 9/11 memorials and Terri Schaivo in importance, but the possibility is there for a new record.
See Balloon Juice for links, and also to see how Lying Lulu distorted Kerry's quote.
Update update: See also Josh Marshall and Shakespeare's Sister.