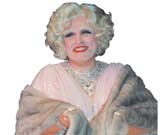 Rudy Giuliani praised George W. Bush for his "leadership" and "foresight" and compared him to Abraham Lincoln. I'm not kidding.
Michael Finnegan reports fot the Los Angeles Times:
Republican presidential hopeful Rudolph W. Giuliani praised President Bush's war leadership on Saturday and mocked supporters of a nonbinding congressional resolution condemning the U.S. troop buildup in Iraq.

The former New York City mayor came to Bush's defense as he promoted his White House candidacy at a California Republican convention. Drawing parallels between Iraq and America's Civil War, Giuliani compared Bush's political troubles to Abraham Lincoln's. When the Civil War was unpopular, Giuliani said, Lincoln "kept his eye ahead."

"He was able to say, 'I know my people are frustrated, and I know my people are angry at me.' " But after weighing public opinion, Lincoln had "that ability that a leader has — a leader like George Bush, a leader like Ronald Reagan — to look into the future," Giuliani said.

Giuliani's defense of the currently unpopular president comes as he is portraying himself as a decisive leader unafraid to buck public opinion. …

… America, he added, is "very fortunate to have President Bush."
That's his campaign speech?
Giuliani made the rounds of Republican constituency groups at the convention, attending small meetings of women, Jews, Asian Americans and lawyers.
But not African Americans? Maybe he's afraid they know how he behaved after the Diallo shooting.
But he canceled a plan to take questions from members of the conservative California Republican Assembly. The group's president, Mike Spence, called it "your basic snub."
The question is, can Giuliani be a bigger whore than he already is? Or has he hit the limits? There even have been reports that Giuliani has shifted his former pro-choice position further right.
Seems to me Giuliani is taking entirely the wrong direction if he expects to be a viable candidate. The one and only attribute he's got going for him is a perception — a questionable perception — that he's a take-charge guy who would be tough on terrorism. But if he can't stand apart from the Miserable Failure-in-Chief and sell himself as someone who would take a new direction, what's the point?