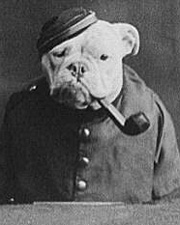 You might have heard that New Gringrich blamed the Virginia Tech tragedy on liberals. I don't know why anyone would be surprised at this. The pseudo conservative Right has been blaming liberals for everything wrong with the world for years. Essentially they took the old John Birch liturgy and substituted "liberal" for "Communist." And they got away with this for a long time.
However, the Right was in total control of the federal government for the past few years, and during that time the world became more screwed up than it ever was, I wonder how well "it's all liberals' fault" still works. That might have been persuasive to some back when Democrats had had a majority in Congress for many years. Now it just sounds pathetic.
Also, from Think Progress:
In a new video, the the right-wing American Family Association attributes the tragedy at Virginia Tech to: a lack of prayer in school, a lack of the Bible in school, a lack of spanking kids, a lack of physical punishment in school, abortion, condoms, Bill Clinton, internet pornography, free speech, the entertainment industry, "satanic" music, and liberal culture in general.
An op ed in today's Wall Street Journal also blames liberalism for the Virginia Tech shootings. Unlike the rantings of Gingrich and the AFA, this argument has a shred of truth. Not the whole truth, but some truth. Jonathan Kellerman writes about the anti-asylum movement of the 1970s that shut down many large psychiatric facilities and made it more difficult for people to be committed against their will.
Kellerman blames some off-the-wall theory floating around in psychiatric circles that "madness could be a reasonable reaction to an unjust society" and even that mental illness did not exist. As I remember at the time, the real impetus to closing many hospitals was the perception they had become little more than warehouses for people who might be better off in some kind of supervised living situation. Yes, some people who wanted to close the hospitals had seen "One Flew Over the Cuckoo's Nest" a few too many times. Others thought that patients might benefit from something like a halfway house arrangement until they were well enough to take care of themselves, instead of being locked up in a hospital. I think in some cases that's a valid argument.
The problem was that this plan was only carried through halfway. Hospitals were closed, but the patients in them were not given the less-restrictive alternative they had been promised. They were just turned loose. Many ended up homeless or in jail. A few were a genuine danger to themselves and others.
The other part of the equation, involuntary commitment, is a bit dicier. Certainly involuntary commitment used to be abused. On the other hand, people who are psychotic or delusional are hardly in a position to make informed decisions about themselves.
In my long sorry life I've heard of a number of atrocities committed by disturbed people who had been denied adequate medical treatment. One that comes to mind is the murder of a New Jersey boy in 1997. The murderer was a 15-year-old whose parents had attempted to place in a hospital just days before. The parents were afraid the youth was a danger to himself, and possibly to others. The hospital psychiatric screening unit and a family court judge disagreed, and the judge told the family to get outpatient help. Shortly after this the youth sexually molested and then strangled an 11-year-old who was selling candy in the neighborhood.
The famous Andrea Yates who drowned her five children while in a psychotic state had been in and out of psychiatric facilities and the care of various shrinks for years before this tragedy. One limiting factor to her treatment was how much her medical insurance would pay. And, yes, her husband also made some boneheaded decisions, but in the days leading up to the tragedy he also had made some effort to get more aggressive treatment for her, without success.
But the bottom line is that as a nation, as a society, we have not shown much interest in resolving the issue of what to do about people with psychiatric illnesses. If Seung-Hui Cho had not killed himself, right now the nation would be arguing itself hoarse over the insanity defense. Instead, people are mostly ignoring Cho's obvious mental disturbance and instead are using the tragedy to promote their (usually unrelated) political and social agenda.
I'm not sure what to do about the psychotics among us, either. But I do suspect the solution will require (1) much improved access to psychiatric health care as part of an overhaul of health care generally, and (2) better public education about psychiatric illness.