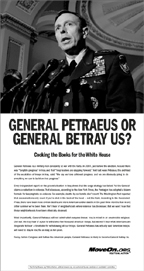 The White House report on Iraq "progress" being fronted by General Petraeus likely will be the top news story over the next couple of days. The general's testimony to Congress will begin this afternoon.
This morning the Right Blogosphere had the vapors over a Moveon.org ad that, the righties said, called General Petraeus a traitor. They harrumphed that Moveon had crossed a line and that the ad is "despicable."
Righties, of course, never cross lines. When they called former President Jimmy Carter a traitor, or when they called Senator John Kerry a traitor, or when they called Rep. Jack Murtha a traitor, that was entirely different. I don't know why, but it was.
For the record, here's the text of the Moveon ad:
GENERAL PETRAEUS OR GENERAL BETRAY US?

General Petraeus is a military man constantly at war with the facts. In 2004, just before the election, he said there was "tangible progress" in Iraq and that "Iraqi leaders are stepping forward." And last week Petraeus, the architect of the escalation of troops in Iraq, said, "We say we have achieved progress, and we are obviously going to do everything we can to build on that progress."

Every independent report on the ground situation in Iraq shows that the surge strategy has failed. Yet the General claims a reduction in violence. That's because, according to the New York Times, the Pentagon has adopted a bizarre formula for keeping tabs on violence. For example, deaths by car bombs don't count. The Washington Post reported that assassinations only count if you're shot in the back of the head — not the front. According to the Associated Press, there have been more civilian deaths and more American soldier deaths in the past three months than in any other summer we've been there. We'll hear of neighborhoods where violence has decreased. But we won't hear that those neighborhoods have been ethnically cleansed.

Most importantly, General Petraeus will not admit what everyone knows: Iraq is mired in an unwinnable religious civil war. We may hear of a plan to withdraw a few thousand American troops. But we won't hear what Americans are desperate to hear: a timetable for withdrawing all our troops. General Petraeus has actually said American troops will need to stay in Iraq for as long as ten years.

Today, before Congress and before the American people, General Petraeus is likely to become General Betray Us.

Cooking the Books for the White House
There are no end of outraged rightie blog posts about this ad, but not one that I've seen refutes the facts presented in the ad. They get hung up on the headline — GENERAL PETRAEUS OR GENERAL BETRAY US? — and that's as far as their "analysis" gets. (See previous post on scientific evidence that righties are stupid.) Instead of, you know, thinking, they commence their usual hysterical wailing and play the victim.

Pete Hegseth of National Review Online is calling for Democrats to "denounce" Moveon. Yes, just as the GOP denounced the Swift Boat Liars. Oh, wait …
Also for the record, had Moveon asked me I would have advised them not to focus so much on Gen. Petraeus. He's just a pawn, really, although as near as I can tell he's playing the pawn role of his own free will. I think Robert Stein makes a valid point —
In his farewell address, Eisenhower famously warned against "the disastrous rise of misplaced power" by the military-industrial complex, "Only an alert and knowledgeable citizenry can compel the proper meshing of…defense with our peaceful methods and goals."

Now Bush is breaking down the barriers between military and civilian by attempting to use Petraeus and "the generals" who agree with him, after replacing those who don't, as a battering ram against Congress to keep them from challenging and changing his disastrous policies.

The invective of the ad against Petraeus is misplaced. He is doing his job in the way that the Commander-in-Chief has defined it. It's that definition that is now not only causing ruin in Iraq but subverting the Constitution.
Of course, unless the Bushies are holding Gen. Petraeus's mother hostage in the White House basement, he's complicit in allowing his uniform to be used as political butt cover.
See also: "Bush in Space."