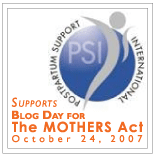 Today BlogHer is promoting a virtual rally for the Mother's Act, which would ensure that new mothers are screened for postpartum depression and provided with education and treatment. It would also provide for increased research on postpartum depression at the National Institute of Health.
Screening for postpartum depression amounts to asking the patient some questions. No expensive high-tech gizmos are required.

Postpartum depression is a serious, sometimes life-shattering condition that deserves more respect. I'm all in favor of screening, because people in the grip of serious depression are challenged to cope with everyday life situations, like getting out of bed and knowing what time it is. And I'm not exaggerating. It's unrealistic to expect severely depressed individuals to take the initiative to get medical help for themselves. Screening could lead to earlier diagnosis and treatment and prevent what should be a challenging but happy time from turning into a nightmare.
Researchers are still groping about in the darkness to understand why new mothers are particularly susceptible to depression. The more we know about causes, the better we can treat and possibly even prevent postpartum depression.
Although I can be militant about respecting depression as a disease with a physiological basis, I share this writer's concerns:
[Psychiatrist James] Potash summarizes the state of postpartum science, and it's largely focused on attempts to find the genetic and molecular underpinnings of postpartum depression — underpinnings that could, in turn, be treated with drugs. Non-medicating approaches, such as cognitive behavior therapy and psychotherapy, are an afterthought.

I don't want to imply that scientists ought to ignore the biology of this condition. But neither should it dominate their research. The bill next goes to the Senate; maybe they can slip in a little language about earmarking some of the money for talk therapy.
I think they should slip in a little more money to see if lack of physical support for new mothers is a factor. In our society new mothers can be terribly isolated. Their husbands and their friends work during the day. Extended family members — the new mother's parents or siblings — may live some distance away or also work full time. Until I had children myself I didn't appreciate how unnatural this is. It may be that to prevent the usual "baby blues" from turning into something worse, some new mothers just need more rest and another adult around to talk to.
In most human societies since Cro-Magnon Man new mothers lived in the midst of an extended family or tribe that provided physical and emotional support. Today, although we don't expect women to give birth in the cornfield and go back to picking corn, neither do we respect the physical challenges of the postpartum period. Women are expected to snap back into their pre-pregnancy state and activities almost as soon as they leave the hospital, which is unrealistic. Women should be able to take the time they need to recover without feeling socially substandard.
And although generally I'm all in favor of people taking meds instead of "toughing it out," nursing babies are exposed to whatever drugs the mother is taking. Non-pharmaceutical means of helping the mother need to be thoroughly explored.
The bill is currently with the Health, Education, Labor & Pensions (HELP) Committee of the Senate. If the majority of the HELP Committee members endorse the MOTHERS Act, the bill will move forward for consideration by the Senate. Without Senate sponsors, the bill could languish in committee and await reintroduction at a future date. The moms of America can't wait for that.
Please contact these senators:
Committee members:
Democrats by Rank
Edward Kennedy (MA)
Christopher Dodd (CT)
Tom Harkin (IA)
Barbara A. Mikulski (MD)
Jeff Bingaman (NM)
Patty Murray (WA)
Jack Reed (RI)
Hillary Rodham Clinton(NY)
Barack Obama (IL)
Bernard Sanders (I) (VT)
Sherrod Brown (OH)
Republicans by Rank
Michael B. Enzi (WY)
Judd Gregg (NH)
Lamar Alexander (TN)
Richard Burr (NC)
Johnny Isakson (GA)
Lisa Murkowski (AK)
Orrin G. Hatch (UT)
Pat Roberts (KS)
Wayne Allard (CO)
Tom Coburn, M.D. (OK)