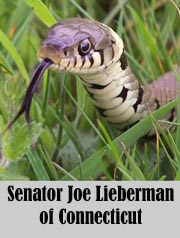 [UPDATE: Greg Sargent has more on what a snake Lieberman really is.]
You may have heard of the recent encounter between Barack Obama and Joe Lieberman, in which the new leader of the Dem party let the former Democrat know that he was not pleased with the the "personal attacks and his half-hearted denials of the false rumors that Obama is a Muslim."
Now the snake in the grass is fighting back, telling Mark Halperin of The Page that "If the Obama campaign thinks they are going to intimidate Joe Lieberman with these sleazy tactics then they are sorely mistaken."
I agree with Josh Marshall:
…Lieberman's days in the Democratic caucus, or more specifically, his days with a committee chairmanship courtesy of the Democratic caucus are numbered in months.

My assumption is that after the November election, regardless of the outcome of the presidential campaign, Joe will be stripped of his chairmanship. (This seems even more certain to me if Obama wins the general, but I suspect it will happen regardless.) Whether he'll actually be expelled from the caucus I don't know and probably doesn't really matter. Once he's stripped of the benefits he gains from it, presumably he'll leave himself and become an actual non-caucusing independent or, more likely, start caucusing with the Republicans.

What that tells me is that Lieberman has no incentive not to make the maximum amount of trouble over the next five months both for his senate colleagues and for Sen. Obama.
Listen, Dems, we tried to tell you to support Ned Lamont. We almost got Creepy Joe out of the Senate for you, and you wouldn't listen to us.
What's even slimier than Joe is the fact that the Right is using this episode to add to their "Obama is anti-semitic" smear: "How smart is it of the Obama camp to antagonize a revered figure in the Jewish community?"
Shameless. And you know the righties won't let go of this. They'll be fabricating "evidence" of Obama's alleged anti-semitism until the election.
Update: See also Jane Hamsher, "Lieberman Whines After Obama Kicks His Ass."
Update: Have you heard about the "veep vetter" controversy? One of the members of Obama's vice presidential search team is being linked to mortgage industry lobbyists because he took a loan from a mortgage company whose lobbyists contributed to the Clinton campaign, and Obama had criticized the Clinton campaign for taking the lobbyists' contributions, and somehow this make Obama a bad person. I haven't had time to check all the details out myself, but unless there is something about this story nobody is telling me, I concur with Mark Adams's opinion:
Now just for the record, the head of Obama's VP selection team didn't hand out fraudulent loans or anything, right? He wasn't a lobbyist for Countrywide, was he, or one of it's executives?

He was an extremely good credit risk who took out some loans with the company, and paid them back. So WTF?