Exhibiting the keen intellect of a petrified dodo egg — I think an adult stuffed dodo would outsmart him, actually — Jonah Goldberg confuses free-wheeling corruption and dysfunction with constitutional checks and balances.
Apparently Tom Friedman said this on Meet the Press yesterday:
MR. FRIEDMAN: Well, David, it's been decimated. It's been decimated by everything from the gerrymandering of political districts to cable television to an Internet where I can create a digital lynch mob against you from the left or right if I don't like where you're going, to the fact that money and politics is so out of control—really our Congress is a forum for legalized bribery. You know, that's really what, what it's come down to. So I don't—I, I—I'm worried about this, it's why I have fantasized—don't get me wrong—but that what if we could just be China for a day? I mean, just, just, just one day. You know, I mean, where we could actually, you know, authorize the right solutions, and I do think there is a sense of that, on, on everything from the economy to environment. I don't want to be China for a second, OK, I want my democracy to work with the same authority, focus and stick-to-itiveness. But right now we have a system that can only produce suboptimal solutions.
To which Goldberg responded ina blog post titled "It's Like He Does it On Purpose":
All of those checks and balances aren't a bug of the system, they're a feature!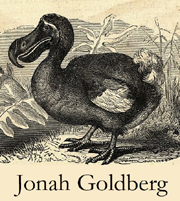 The word for the day, boys and girls, is non sequitur. It's like he does it on purpose.
Unfortunately, Goldberg is not the only idiot writing for the Web. At the Catholic site First Things, The Anchoress turns Friedman's words into a hysterical rant about a leftist totalitarian takeover.