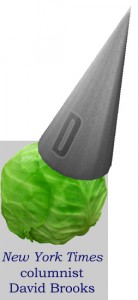 Yeah, OK, it's David Brooks, possibly the world record-holder in stupid shark jumping. But in today's column he lays out the conservative beef with empathy. Empathy isn't what it's cracked up to be, Brooks informs us.
"In the early days of the Holocaust, Nazi prison guards sometimes wept as they mowed down Jewish women and children, but they still did it," Brooks says.
Of course, there is at least one eyewitness account of a prison guard refusing to shoot who was promptly tossed into the pit of Jewish women and children to be mowed down. Death is a rather large motivation to obey orders.
But then after Brooks goes on awhile about empathy is nice but doesn't make the trains run on time, he turns to what does —
People who actually perform pro-social action don't only feel for those who are suffering, they feel compelled to act by a sense of duty. Their lives are structured by sacred codes.

Think of anybody you admire. They probably have some talent for fellow-feeling, but it is overshadowed by their sense of obligation to some religious, military, social or philosophic code. They would feel a sense of shame or guilt if they didn't live up to the code. The code tells them when they deserve public admiration or dishonor. …

… The code isn't just a set of rules. It's a source of identity. It's pursued with joy. It arouses the strongest emotions and attachments. Empathy is a sideshow.
Um, but weren't the Nazis all about identity and codes of honor? In fact, those soldiers in the firing line had sworn this oath —
"I swear by God this sacred oath: I will render unconditional obedience to Adolf Hitler, the Führer of the German Reich and people, Supreme Commander of the Armed Forces, and will be ready as a brave soldier to risk my life at any time for this oath."
Duty, identity (racial, ethnic, religious, nationalistic, politial, tribal), honor — yeah, that always works out well.