John McCain, whose success in life came to him because he is a former POW who married money, has gone ballistic because the Obama campaign had the bad taste to remind everyone who killed Osama bin Laden. Yeah, and who was that guy who promised to do that and then quit? Oh, yeah …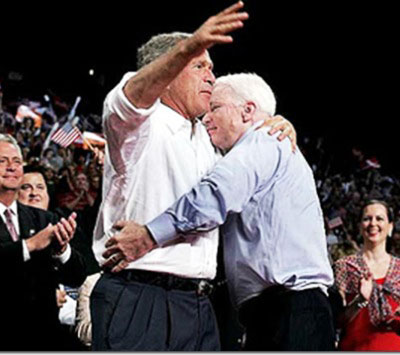 Meanwhile, the Breitbrats are flapping about because they found a memo offering some details to the OBL operation, and they learned that the President did not design the mission and was not in charge of minute-to-minute tactical operations. Nor did he ride into Pakistan on a magic carpet and kill OBL personally. Instead, based on the tactical advice of the military, he gave the go-ahead to proceed with the mission.
Which is not news. That's how I understood the mission all along. Are these yappers brain damaged?
You can tell that President Obama's successful operation to find (and kill) Osama bin Laden really eats at the right wing; the faux arguments from the wingnut blogosphere are getting more and more obtuse and absurd. Of course, they're writing for an audience that doesn't care, as long as they get their daily serving of rancid Obama Derangement stew.
See also Tbogg.