It's CPAC time, boys and girls!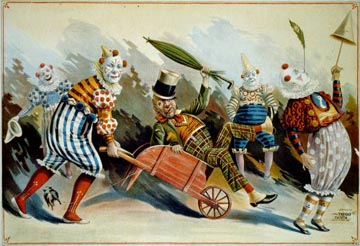 And the fun has begun! Scott Walker actually said this:
"I want a commander-in-chief who will do everything in their power to ensure that the threat from radical Islamic terrorists do not wash up on American soil. We will have someone who leads and ultimately will send a message not only that we will protect American soil but do not take this upon freedom-loving people anywhere else in the world," he responded. "We need a leader with that kind of confidence. If I can take on a 100,000 protesters, I can do the same across the world."
Because a crowd of unarmed and peacefully if loudly protesting teachers and farmers is just like ISIS. That was so stupid even the National Review called him on it.
[Apparently Walker has made noises in the past tying unions to Communism (see Steve M). This actually echoes some very old history involving Wisconsin. Way back when Wisconsin's infamous Senator Joe McCarthy first won a seat in the Senate, but before his infamous "I have in my hand" speech that gained him national attention for his witch hunt seeking Communists in the State Department, his signature issue was unions. He was the anti-union senator, ceaselessly arguing that labor unions were Communist fronts. (This is documented in a book by historian David Oshinsky titled Senator Joe McCarthy and the American Labor Movement [University of Missouri Press, 197-something].) As with his later fruitless witch hunts none of the people he targeted were ever found guilty of anything, but wingnuts insist up and down that McCarthy  was "right" about Communism and that the Venona papers  prove it. However, none of the people McCarthy targeted are mentioned in the Venona papers. So he remains zero-for-whatever in uncovering actual Communists.]
[Also, too, today a New York Times editorial complains that "Republicans' support for anti-union legislation is at odds with their professed commitments to helping the middle class." Ya think?]
By all accounts Walker wowed the crowd at CPAC, who gave him a standing ovation. But Walker never struck me as someone who could get traction in a national campaign, unless perhaps he put himself in the hands of a Lee Atwater/Karl Rove sort of handler who could craft the impression that Walker has a personality. Rove himself seems to have passed his sell-by date, however, and I don't see anyone else on the Right ready to step into the void. As we saw in 2012, it's not that hard to become the Darling of the Right for 15 minutes or so with a masterful tossing of anti-Obama red meat, but that act doesn't play so well outside of the Rightie Bubble.
Jeb Bush is supposed to speak at CPAC today, and there's a move afoot among the more rabid teabaggers to walk out of the speech. Pass the popcorn.