Well, he does everything bigly. Now Trump has made Bush's "heck of a job, Brownie" moment look like Clara Barton arriving on the battlefield.
As I posted yesterday, the Trump Administration's tepid "response" to the humanitarian crisis in Puerto Rico pales in comparison to what Obama did for Haiti in 2010. Even the general in charge of relief there says the Administration isn't doing enough.
Yesterday in response to some blather from the acting head of Homeland Security about what a great job the Administration is doing in Puerto Rico, San Juan Mayor Carmen Yulín Cruz responded "Dammit, this is not a good news story. This is a 'people are dying' story."
Ms. Cruz became a powerful voice of grievance on Friday when she went on television to plead for help and reject assertions by the Trump administration about how well it was responding. She was incensed by comments made by Elaine Duke, the acting secretary of Homeland Security, who had said on Thursday that it was "really a good news story in terms of our ability to reach people and the limited number of deaths" from the hurricane.

"This is, dammit, this is not a good news story," Ms. Cruz said on CNN. "This is a 'people are dying' story. This is a 'life or death' story. This is 'there's a truckload of stuff that cannot be taken to people' story. This is a story of a devastation that continues to worsen."
Naturally, Trump responded by being Trump.
The president is responding by citing what he calls "such poor leadership ability by the Mayor of San Juan, and others in Puerto Rico, who are not able to get their workers to help."

Trump says "they want everything to be done for them when it should be a community effort. 10,000 Federal workers now on Island doing a fantastic job."

He says the hurricane "totally destroyed" Puerto Rico and that "the military and first responders, despite no electric, roads, phones etc., have done an amazing job."
"Grotesque" is really the only word for this pic.twitter.com/W7rnPbRciz

— Jesse Singal (@jessesingal) September 30, 2017
And, of course, the asshole in chief is screaming about fake news.
The Washington Post has a different take:
As Hurricane Maria made landfall on Wednesday, Sept. 20, there was a frenzy of activity publicly and privately. The next day, President Trump called local officials on the island, issued an emergency declaration and pledged that all federal resources would be directed to help.

But then for four days after that — as storm-ravaged Puerto Rico struggled for food and water amid the darkness of power outages — Trump and his top aides effectively went dark themselves.

Trump jetted to New Jersey that Thursday night to spend a long weekend at his private golf club there, save for a quick trip to Alabama for a political rally. Neither Trump nor any of his senior White House aides said a word publicly about the unfolding crisis.

Trump did hold a meeting at his golf club that Friday with half a dozen Cabinet officials — including acting Homeland Security secretary Elaine Duke, who oversees disaster response — but the gathering was to discuss his new travel ban, not the hurricane. Duke and Trump spoke briefly about Puerto Rico but did not talk again until Tuesday, an administration official said.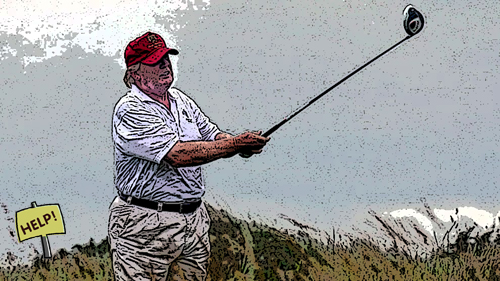 In Puerto Rico, meanwhile, the scope of the devastation was becoming clearer. Virtually the entire island was without power and much of it could be for weeks, officials estimated, and about half of the more than 3 million residents did not have access to clean water. Gas was in short supply, airports and ports were in disrepair, and telecommunications infrastructure had been destroyed.
Instead of stepping up his act, Trump has behaved like a petulant child complaining that not everybody loves him and picking a feud with the Mayor of San Juan.
See also Hurricane Maria's death toll in Puerto Rico is higher than official count, experts say.