Jared Kushner and Russia's ambassador to Washington discussed the possibility of setting up a secret and secure communications channel between Trump's transition team and the Kremlin, using Russian diplomatic facilities in an apparent move to shield their pre-inauguration discussions from monitoring, according to U.S. officials briefed on intelligence reports.

Ambassador Sergey Kislyak reported to his superiors in Moscow that Kushner, son-in-law and confidant to then-President-elect Trump, made the proposal during a meeting on Dec. 1 or 2 at Trump Tower, according to intercepts of Russian communications that were reviewed by U.S. officials. Kislyak said Kushner suggested using Russian diplomatic facilities in the United States for the communications.

The meeting also was attended by Michael Flynn, Trump's first national security adviser.
President Donald Trump's son-in-law and senior adviser, Jared Kushner, denied in a statement Monday that he suggested setting up a "back channel" communication line to the Kremlin that would bypass US intelligence agencies and persist after Trump was inaugurated.

But Kushner acknowledged in the statement, which came ahead of a closed-door appearance before the Senate Intelligence Committee, that he asked Russia's ambassador to the US in December whether the Trump transition team could use Russia's embassy to communicate privately with Moscow about Syria.
The President's son-in-law and trusted adviser Jared Kushner failed to provide Senate investigators with emails he was forwarded about WikiLeaks and an invitation to contact Russia through a "backdoor," two senior lawmakers claim.

In a letter to Kushner's lawyer Abbe Lowell, Senator Chuck Grassley and Senator Dianne Feinstein reveal that Kushner received emails in September 2016 about WikiLeaks and about a "Russian backdoor overture and dinner invite." …

…

The Senate lawmakers say they know of the existence of the documents from other witnesses in their investigation. Yet Kushner, who says he is cooperating, has not produced them.

"There are several documents that are known to exist but were not included in your production. For example, other parties have produced September 2016 email communications to Mr. Kushner concerning WikiLeaks, which Ðœr. Kushner then forwarded to another campaign official," the letter reads. "Likewise, other parties have produced documents concerning а "Russian backdoor overture and dinner invite" which Mr. Kushner also forwarded."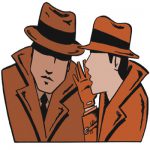 It's not clear from the article exactly what happened when or who issued the invitation to Kushner, although it may have been Sergei Millian, a Russian-American businessman who may be one of the sources included in the Steele dossier. But it certainly sounds like the backdoor-backchannel thing was something Kushner at least tried to set up.