Missouri is notoriously slow at paying tax refunds, but this year is one for the late records. I understand some people are still waiting. Yesterday Missouri Auditor Nicole Galloway accused Governor Eric Greitens of deliberately obstructing a routine but necessary audit and thereby slowing down refunds.  The Springfield News-Leader reports,
Auditor Nicole Galloway says Gov. Eric Greitens' administration has made "unprecedented attempts" to "obstruct audit work" related to late tax refunds.

Missouri has been required to pay hundreds of thousands of dollars in interest in recent years to taxpayers who waited more than six weeks for refunds, Galloway's office said in a new report.

"The state has paid individual income tax refunds in an increasingly untimely manner" and "does not have sufficient cash available" to refund taxpayers on time, the report said. Also, Missouri pays back larger returns first, regardless of the order in which refunds are processed, the auditor's office said.

The delays are due to Missouri's decision to pay other expenses before refunds, stalling $200 million in refunds at one point, according to Galloway's office.

"The administration is balancing its checkbook on the backs of individual taxpaying Missourians — that is simply unacceptable," Galloway said in a written statement. "Throughout this audit, my office received thousands of calls and e-mails from taxpayers who were rightfully frustrated because they were not receiving the money they were owed."
You might recall that last year Greitens sold himself to Missouri voters with television ads that showed him shooting up cornfields with various military weapons.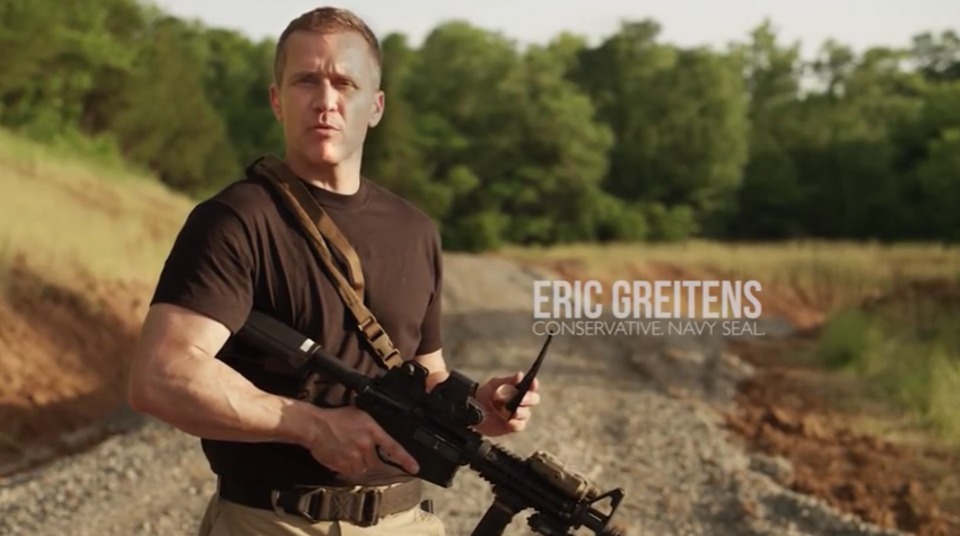 Like any good wingnut, he's all about tax cuts. Among other things, he has cut low-income housing tax credits because, you know, those poor folks take up too much space anyway.  He also ensured that people stay poor by blocking a St. Louis city ordinance that raised the minimum wage to $10 an hour in the city. Thanks to Greitens, many people who had already been enjoying larger paychecks saw their income cut back to $7.70 an hour. He also cut 8,000 elderly and disabled people off medical care  and cut millions out of the higher education budget. So he's not what we'd call a sweetheart. The St. Louis Post-Dispatch also has been slamming him for his lack of transparency in campaign funding. He apparently received millions in dark money from lobbyists and corporations, so he's not what we'd call a man of the people, either. But damn, that boy can shoot up a cornfield.
Getting back to the tax refund delays — the St. Louis Post-Dispatch reported,
Missouri Auditor Nicole Galloway on Monday said Gov. Eric Greitens' administration obstructed and delayed her office's audit of income tax refund processing even after she subpoenaed his Department of Revenue in April.

Despite this, Galloway, a Democrat, found that the amount of interest paid out to Missourians because the state processed their tax returns late rose 38 percent in one fiscal year –from $306,077 during fiscal year 2016, to $423,366 this past year. …

… The sparring started in April, when Galloway subpoenaed the state Department of Revenue seeking information about its processing of tax return refunds. Greitens, a Republican, called the move a "political stunt" and said his administration was preparing to turn over reams of documents to the auditor.

"My office was met with a lack of cooperation, numerous delays in responses and communication, refusal by the administration to even meet to discuss the audit, and more troubling, a refusal to confirm that all information was provided," Galloway said at a Monday news conference.

Parker Briden, the governor's spokesman, said in a statement that the criticisms were "another cheap ploy from a Democrat who is desperate for headlines."
Did I mention that some people are still waiting for 2016 refunds?
Republicans have pointed out that the state was notoriously late refunding taxes when a Democrat, Jay Nixon, was governor. But they've never been this late before.