Trump won't shut up. These tweets are from yesterday:
As the House Intelligence Committee has concluded, there was no collusion between Russia and the Trump Campaign. As many are now finding out, however, there was tremendous leaking, lying and corruption at the highest levels of the FBI, Justice & State. #DrainTheSwamp

— Donald J. Trump (@realDonaldTrump) March 17, 2018
The Fake News is beside themselves that McCabe was caught, called out and fired. How many hundreds of thousands of dollars was given to wife's campaign by Crooked H friend, Terry M, who was also under investigation? How many lies? How many leaks? Comey knew it all, and much more!

— Donald J. Trump (@realDonaldTrump) March 17, 2018
The Mueller probe should never have been started in that there was no collusion and there was no crime. It was based on fraudulent activities and a Fake Dossier paid for by Crooked Hillary and the DNC, and improperly used in FISA COURT for surveillance of my campaign. WITCH HUNT!

— Donald J. Trump (@realDonaldTrump) March 18, 2018
And these are from this morning:
Wow, watch Comey lie under oath to Senator G when asked "have you ever been an anonymous source…or known someone else to be an anonymous source…?" He said strongly "never, no." He lied as shown clearly on @foxandfriends.

— Donald J. Trump (@realDonaldTrump) March 18, 2018
Spent very little time with Andrew McCabe, but he never took notes when he was with me. I don't believe he made memos except to help his own agenda, probably at a later date. Same with lying James Comey. Can we call them Fake Memos?

— Donald J. Trump (@realDonaldTrump) March 18, 2018
Why does the Mueller team have 13 hardened Democrats, some big Crooked Hillary supporters, and Zero Republicans? Another Dem recently added…does anyone think this is fair? And yet, there is NO COLLUSION!

— Donald J. Trump (@realDonaldTrump) March 18, 2018
Does an innocent man say stuff like this? For that matter, does a guilty man who isn't dumber than a pair of socks say stuff like this? As Andrew McCabe explained,
"This is part of an effort to discredit me as a witness," he told the Times.

"Here is the reality: I am being singled out and treated this way because of the role I played, the actions I took, and the events I witnessed in the aftermath of the firing of James Comey," McCabe said in a public statement.
Well, yeah; the blind could see it. So will any future grand juries. Or judges.
Trump  has not been so direct in attacking Mueller himself before now, probably on advice of counsel. Benjamin Hart writes,
The New York Times revealed one possible reason for Trump's especially intense wrath of late: the special counsel's office had sent over a list of questions to the White House to set up a possible interview with the president. Last week, Mueller subpoenaed documents relating to the Trump Foundation, crossing a "red line" the president had set dictating that Mueller not delve into Trump and his family's personal finances.

The investigation, in other words, appears to be drawing ever closer to the president and he's responding the only way he knows how: by preparing to take out his enemy, no matter the consequences.

Thankfully for Trump, the Republican response to this increasingly likely scenario has consisted mostly of silence.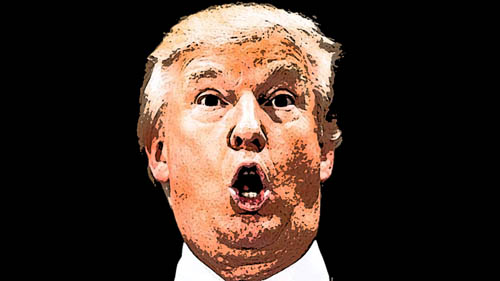 At Vox, Emily Stewart writes that Jeff Sessions may have violated his recusal pledge when he fired Andrew McCabe.
That decision [for Sessions to fire McCabe] has prompted a number of questions, including whether McCabe's firing was politically motivated — or performed at the urging of President Donald Trump — and why it was done so vindictively, taking place as it did just two days before McCabe would have been eligible to receive a full federal pension after more than 20 years of service. Another question has begun to percolate as well: Should Sessions, who recused himself from all matters related to the 2016 presidential campaign — which included anything involving the Clinton Foundation — have been able to fire McCabe at all? ,,,

… Writing at the New York University School of Law-based blog Just Security, Ryan Goodman, a professor of law at New York University, made the argument on Saturday that Sessions violated his promise recuse himself from matters involving the 2016 election — a decision Trump had been furious about for quite some time.

"Some might contend that Sessions' recusal covered only the Clinton and Trump campaigns, and that McCabe's firing involved the Clinton Foundation investigation as a separate matter," he wrote. "But Sessions unequivocally assured senators of his intentions during his confirmation hearings in response to a clear and specific question from the Chair of the Senate Judiciary Committee, Sen. Chuck Grassley (R-IA). Sen. Grassley asked a follow-up question that went right to the point. In response, Sessions very clearly said his recusal would cover any matters involving the Clinton Foundation."
The stated reason for McCabe's firing is that in 2o16 McCabe allowed FBI officials speak to Wall Street Journal reporters about the investigation into Hillary Clinton and the Clinton Foundation. Of course, if that were the real reason, McCabe would be retiring today with his full pension.
Also too: See Sean Illing, Cambridge Analytica, the shady data firm that might be a key Trump-Russia link, explained. And the AP reports that the Kushners have been caught lying to New York City about rent-controlled apartments as part of a scam to toss tenants out of their homes.