Most of y'all will remember the Peter Principle, which says that people in a hierarchy tend to rise to their level of incompetence. In my experience this usually only applies to men, as women are less likely even to be promoted to take advantage of their fullest potential, but let's go on … I am seeing a variation of the Peter Principle, which says that people in public life rise to the level at which their character flaws are exposed.
For example, Josh Marshall writes about White House doctor Ronny Jackson —
It was universally agreed when President Trump nominated him, apparently with no vetting or preparation, that Ronny Jackson was woefully unqualified to serve as Secretary of Veterans Affairs. But he also appeared to be widely respected as the White House doctor who has served not only President Trump but also President Obama. Now accusations are emerging of excessive drinking, creating a hostile work environment and 'improperly dispensing' medication.
It's not sure where these accusations are coming from, and it's possible they aren't true. But Josh Marshall points out that being nominated to head the VA was possibly the worst thing that ever happened to Jackson. If he has any sense, he'll withdraw his name from nomination before something is exposed that costs him the White House job, and maybe his medical license.
And then, take Sean Hannity. Please.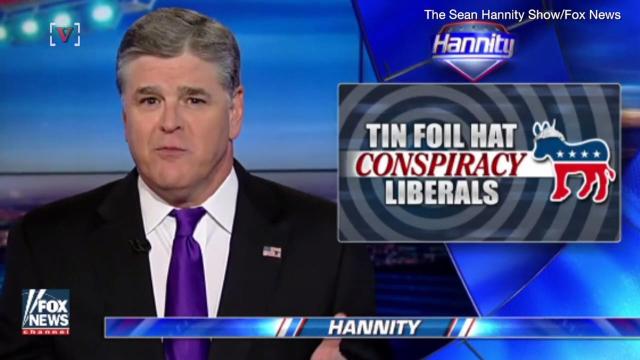 The Guardian is reporting that Hannity is connected to fraudulent real estate deals —
Sean Hannity's real estate venture bought houses through a property dealer who was involved in a criminal conspiracy to fraudulently obtain foreclosed homes, according to records reviewed by the Guardian.

In 2012, a shell company linked to the Fox News host bought 11 homes in Georgia that had been purchased by the dealer, Jeff Brock, following foreclosures. Brock transferred the properties to corporate vehicles that sold them on to the Hannity-linked company at a profit.

Brock pleaded guilty in 2016 to federal charges of bank fraud and conspiracy for his role in an operation to rig foreclosure auctions between 2007 and 2012. He was sentenced to six months in prison and had to pay more than $166,000 in fines and restitution.

Some of the houses sold on to the Hannity-linked firm in 2012 had been acquired by Brock from banks later named by prosecutors among his victims. But the justice department declined to identify specific properties sold in the rigged auctions. Hannity has not been accused of any wrongdoing and there is no evidence he was aware that Brock was involved in fraud.
If Hannity hadn't become an unofficial part of the Trump Administration and connected to Michael Cohen, I doubt anyone would have bothered to sniff around in his real estate empire. It may be Hannity isn't guilty of anything, but this ought to put a dent in his "champion of the little guy" act.
The Biggest Loser in the bunch could well be Trump himself. Much of his sleazebag background has been in the public record for a long time, but nobody really cared as long as he was more or less an entertainer on the teevee. But now that he's POTUS, he can't stop people from following dots. And it's not just the Mueller investigation. The latest little tidbit is that he's been lying about a trip to Moscow in 2013. Bloomberg reports,
President Donald Trump twice gave James Comey an alibi for why a salacious report about the 2013 Miss Universe pageant in Moscow couldn't be true: He never even spent the night in Russia during that trip, Trump told the former FBI director, according to Comey's memos about the conversations.

Yet the broad timeline of Trump's stay, stretching from Friday, Nov. 8, 2013, through the following Sunday morning, has been widely reported. And it's substantiated by social media posts that show he slept in Moscow the night before the Miss Universe contest.

Now, flight records obtained by Bloomberg provide fresh details. Combined with existing accounts and Trump's own social-media posts, they capture two days that, nearly five years later, loom large in the controversy engulfing the White House and at the heart of the Comey memos, which the Justice Department turned over last week to Congress.
Per Comey's book (which I haven't read), I understand Trump was obsessed with quashing reports about what he might have done involving activities with hookers during that trip. But if he'd never been elected POTUS, the public never would have cared. Now it's a big bleeping deal.
And the moral is, if you've got something to hide, keep your head down.